Jackie Selebi, South Africa's ex-police chief, appeals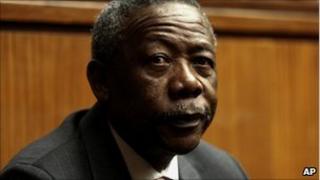 A court in South Africa is hearing an appeal by ex-police chief Jackie Selebi against his conviction for taking bribes from a drug dealer, the country's news agency says.
He was not in court, apparently because he is ill, the South African Press Association reports.
Selebi, an ex-Interpol president, was sentenced to 15 years last year.
Convicted dealer Glenn Agliotti paid Selebi 1.2m rand ($156,000; £103,000) to turn a blind eye to his business.
Selebi was a senior member of South Africa's ruling party, the African National Congress (ANC), and an ally of former President Thabo Mbeki.
He is the most senior official appointed by the country's government to have been convicted of corruption but remains free on bail while the appeal is heard.
'Opportunistic conduct'
Selebei's lawyer Jaap Cilliers told judges at the Supreme Court of Appeal in Bloemfontein to carefully consider Agliotti's testimony, Sapa reports.
"You should very seriously evaluate the opportunistic conduct of witnesses, " Mr Cilliers is quoted by the agency as saying.
Before the hearing, South Africa's ENews channel reported that Selebi was in poor health.
Selebi's successor, Gen Bheki Cele, was suspended last week over alleged unlawful property deals.
President Jacob Zuma said he would remain suspended, pending an inquiry into the allegations.
South Africa's ombudsman, Public Protector Thuli Madonsela, said her investigation against Gen Cele found that police buildings were leased from a private company at inflated prices.
The deals were unlawful, but there was no evidence of criminality, she said.
Gen Cele said he had done nothing wrong.