Kenya air raid in Somalia Jilib town 'kills civilians'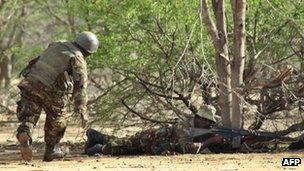 At least five people, including three children, have died after a refugee camp in southern Somalia was bombed, the MSF charity says.
Kenya's army denied bombing the camp, saying it had been attacked by the militant Islamist group, al-Shabab.
A Kenya fighter jet only hit al-Shabab positions in Jilib, killing 10 of its fighters, an army spokesman said.
Kenya sent troops into Somalia on 16 October to pursue al-Shabab, which is linked to al-Qaeda.
In a statement, MSF (Medecins Sans Frontieres) said aerial bombardments in Jilib - a stronghold of al-Shabab - had hit a camp for displaced people on Sunday.
Three children, a woman and a man were killed in the attack and another 45 people were treated for shrapnel wounds, MSF-Holland Somalia mission head Gautam Chatterjee said.
In a BBC interview, Kenyan military spokesman Maj Emmanuel Chirchir denied that Kenya's air force had bombed the camp.
"MSF is being used by al-Shabab [for propaganda purposes]," he told the BBC's Focus on Africa programme.
He said an al-Shabab militant had driven a truck laden with explosives into the camp, causing the casualties.
A Kenyan fighter jet had attacked an al-Shabab base near the refugee camp, Maj Chirchir said.
"We received intelligence that a top al-Shabab leader was to visit a camp in Jilib so we conducted an air raid," he said.
Maj Chirchir said "human intelligence" showed that 10 al-Shabab fighters had been killed and 47 wounded.
Mr Chatterjee said MSF had evacuated its staff from Jilib, the AFP news agency reports.
"So today the nutrition clinic and cholera centre are closed. We will re-open as soon as things are a bit safer for our staff there," he is quoted as saying.
Maj Chirchir said al-Shabab had also been attacked at sea, with the Kenyan navy capsizing three of its boats along the Somali coast.
Kenya says it is pursuing al-Shabab in Somalia because it poses a threat to its stability.
It accuses the group of a spate of kidnappings in Kenya - including that of a French woman who died in Somalia earlier this month.
Al-Shabab denies involvement in the abductions.
It has vowed to retaliate against Kenya for sending troops into Somalia.
Somalia has been without an effective for more than 20 years.
The UN declared a famine earlier this year in six areas under al-Shabab's control.
Somalia's Prime Minister Abdiweli Mohammed visited Kenya on Monday and said al-Shabab was the common enemy of Somalia and Kenya and the best way to deal with the effects of the famine was to defeat the group.
He said Somali government troops were taking the lead in the offensive against al-Shabab and that the Kenyan military was playing a supportive role.
Last week, Somalia's President Sheikh Sharif Sheikh Ahmed said he was opposed to Kenya's intervention.
Some humanitarian agencies are worried that the operation threatens to make it harder to get aid to the victims of the famine in southern Somalia, correspondents say.
Related Internet Links
The BBC is not responsible for the content of external sites.