Marrakesh cafe bomber Adel Othmani given death sentence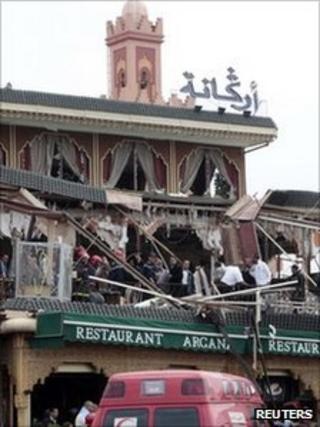 The mastermind of a deadly bomb attack on a Moroccan cafe in April has been sentenced to death.
The court in Rabat convicted Adel Othmani of organising the attack on the Argana cafe in Marrakesh, which killed 17 people - most of them tourists.
Eight of his associates were given jail sentences for their roles.
Eight French nationals died in the attack, along with two Moroccans and people from Britain, Canada, Portugal, Switzerland and the Netherlands.
It was the deadliest attack in the North African kingdom since bombings in the coastal city of Casablanca in 2003 killed 45 people, including suicide attackers.
Othmani was convicted of making explosives and committing murder. His lawyers said they would lodge an appeal.
Protests in court
Prosecutors told the court that Othmani disguised himself as a guitar-carrying hippie, and planted two bombs in a cafe in Djemaa El-Fna, the tourist heart of Marrakesh.
He then detonated the explosives using a mobile phone.
The motive for the attack was unclear.
The authorities had suggested that Othmani and his accomplices were "admirers of al-Qaeda".
The BBC's Nora Fakim in Rabat says family members of the accused men protested in court, and there was a tense atmosphere.
Othmani had denied the charges throughout the trial, claiming that he had been set up.
In his final statement to the judges, he said the whole case was baseless.
"There is so much injustice in this country. Innocent people find themselves embroiled in cases like this while they are actually being used in political ploys," he said, according to Reuters news agency.
There are more than 100 people on death row in Morocco, where the death penalty is often handed out, but there have been no executions for almost 20 years.