Kenya-Somalia border attack: Al-Shabab suspected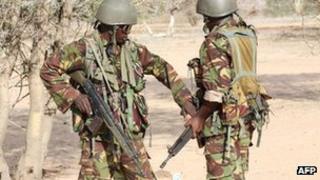 Gunmen have ambushed a vehicle in Kenya near the border with Somalia, killing four people, reports say.
A school teacher and a government official were among the dead as the attackers fired a rocket-propelled grenade, police said.
Kenya blames Somalia's militant Islamist group al-Shabab for a spate of abductions on its territory.
Its troops clashed with the militants in southern Somalia on Thursday after entering the country on 16 October.
The BBC's East Africa correspondent Will Ross says heavily armed gunmen ambushed a four-wheel-drive vehicle in Mandera district in north-east Kenya.
Two security guards who were in the vehicle exchanged fire with the gang which then launched a rocket-propelled grenade, he says.
It completely destroyed the car and killed all four passengers - among them a secondary school headmaster and a local government official.
'Banditry'
Kenyan soldiers have been sent to the area, our correspondent says.
Kenyan police spokesman Eric Kiraithe described it as a "banditry attack" about 110 km (70 miles) from Mandera town, the Reuters news agency reports.
But our correspondent says there is some suspicion that al-Shabab militants carried out the attack.
The group controls territory just across the border in Somalia and the use of such heavy weaponry makes local banditry less likely, he says.
Kenya sent hundreds of troops into Somalia more than ten days ago to attack al-Shabab, which is linked to al-Qaeda.
Kenyan military spokesman Emmanuel Chirchir said the two sides clashed on Thursday, as the army continued to advance on al-Shabab positions.
"We managed to kill nine al-Shabab [fighters]," he said.
An al-Shabab spokesman, Sheikh Abdiasis Abu Musab, denied the claim.
He told Reuters that the group's fighters had ambushed four Kenyan military vehicles.
Last week, al-Shabab lost control of the coastal town of Ras Kamboni after attacks by the Kenyan navy and a local militia.
"The Kenyan government's strategy is to destroy al-Shabab's network within the shortest time possible," Kenyan government spokesman Alfred Mutua is quoted by the AFP news agency as saying.
On Wednesday, a Kenyan man arrested after two grenade blasts in the capital, Nairobi, admitted in court to being a member of the group.
Elgiva Bwire Oliacha pleaded guilty to carrying out the attacks on a nightclub and bus stop.
One person was killed and 29 others were wounded in the attacks on 24 October.
Security has been stepped up in Nairobi since the blasts, with many residents fearing there could be more attacks, correspondents say.
Three aid workers employed by the Danish Demining Group were abducted in north-central Somalia on Monday.
Last week, the French authorities said a French woman suffering from cancer who was kidnapped from Kenya by Somali gunmen earlier in the month had died.
Other foreigners abducted from Kenya and being held in Somalia include a British woman abducted from a coastal resort, and a Kenyan driver and two Spanish aid workers seized from the Dadaab refugee camp near the Kenya-Somalia border.
Al-Shabab denies that it is responsible for the abductions and has vowed to retaliate aganist Kenya for sending troops into Somalia.