Somali fighting and rain 'worsens drought crisis'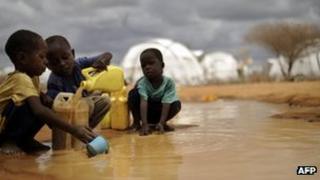 A combination of a military build-up in Somalia and heavy rains are making the humanitarian relief effort in the country even harder, the UN has warned.
Some four million people in Somalia need food and other assistance because of the drought and famine.
Eleven days ago, the Kenyan army entered Somalia to fight the Islamist insurgent group, al-Shabab.
The deployment and weather have contributed to slowing the flow of Somalis to Kenya's Dadaab refugee camp.
The week before the Kenyan army poured over the Somali border, 3,500 Somalis arrived in Kenya.
The next week, only 100 people turned up.
"The security situation remains precarious, particularly in Somalia's southern regions, further complicating humanitarian operations," UN humanitarian agency, Ocha, said in a statement.
"The military build-up is causing anxiety among the civilian population. Movement of humanitarian personnel and supplies are also likely to be restricted," it said.
Aid agencies fear the rain is likely to lead to many people dying from diseases like cholera as they have already been weakened by malnutrition.
The humanitarian effort is being severely hampered by corruption, especially in Somalia's capital, Mogadishu, as well as by al-Shabab's restrictions on Western aid agencies.
It is extremely hard to get an accurate picture of the situation in the south of the country where al-Shabab is in control.
The al-Qaeda-linked group has forced thousands of families from displacement camps in its areas back to the famine-affected regions, with the aim of getting them farming again.
"According to media reports, al-Shabab began forced returns of internally displaced persons to their areas of origin in Lower Shabelle region, starting with Ala-Yasir settlement in K-50. At least, 4,600 families comprising about 27,540 people were transported to areas of Bay, Bakool and Lower Shabelle regions to start farming," Ocha said.
Similar forced returns took place in Bay region in September.
These people will need food hand-outs until at least January - the amount of aid reaching them is not nearly enough.
Kenya has blamed al-Shabab for a number of abductions on its territory, but the group has denied any involvement.