Kenya terror suspect claims to be Somali al-Shabab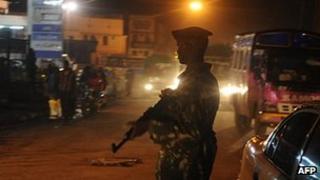 A Kenyan man arrested after two grenade blasts in the capital, Nairobi, has admitted in court to being a member of the Somali militant group al-Shabab.
Elgiva Bwire Oliacha pleaded guilty to carrying out Monday's attacks on a nightclub and bus stop.
They come a week after Kenyan troops deployed to Somalia in pursuit of al-Shabab militants they blame for recent kidnappings in Kenya.
Al-Shabab denies the allegation and has threatened reprisal attacks.
Earlier, Kenyan police had said there was no leak between Monday's incidents and al-Shabab, a group linked to al-Qaeda which controls much of southern and central Somalia.
Government spokesman Alfred Mutua has said in a statement that those behind the attacks, in which one person died and 29 others were injured, were "inspired by al-Shabab".
Car detonated
Mr Oliacha, a recent Muslim convert from western Kenya, was arrested on Tuesday with an arms cache which included 13 hand grenades, an AK47, rifle, a machine gun, four pistols and ammunition.
On Wednesday evening, police said they had detonated a car believed to be holding a bomb in Kayole, a suburb about 15km (10 miles) from Nairobi's city centre.
Eyewitnesses said the car was abandoned in the middle of a busy street. A man was spotted leaving it and shouting in Kiswahili: "Wait and see the world coming to an end today."
The BBC's Odhiambo Joseph in Nairobi says there is a sense of panic in the city, where many more uniformed officers can been seen patrolling.
The Kenyan government sent troops to Somalia more than a week ago to pursue the militants after accusing them of being behind some abductions on its territory.
The French authorities said they had learnt last week that a Frenchwoman suffering from cancer who was kidnapped from Kenya by Somali gunmen earlier in the month had died.
Other foreigners being held in Somalia include a British woman abducted from a coastal resort and a Kenyan driver and two Spanish aid workers seized from the Dadaab refugee camp near the Kenya-Somalia border.