Somali pirate hostages plead for release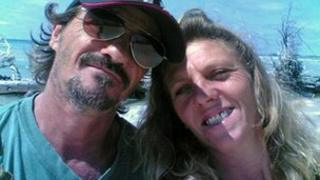 A South African couple kidnapped by Somali pirates a year ago has made a direct appeal to be released.
Bruno Pelizzari, 52, was captured with his partner Debbie Calitz, 49, during an attack on a yacht.
A third person managed to escape but the couple has been held in Somalia ever since. A ransom of $4m (£2.5m) is being demanded for their release.
During a recorded telephone call, Mr Pelizzari told his sister, Vera Hecht: "We demand our freedom".
His words seemed to be aimed at the South African government but it has a policy of not paying ransoms.
In response, a government spokesman told the BBC: "The pirates employ every tactic that they think will assist them to achieve their goal."
'Passion for sailing'
Vera Hecht was able to speak to both of the hostages after being allowed to do so by the pirates' negotiator.
She was also given permission to record the conversation and to release it to the media. She was, however, restricted in what questions she was allowed to pose.
Debbie Calitz told her of concerns about their diets in captivity.
"We are deficient in vitamins and minerals and everything. We are deficient in all of that… and Bruno's hair is falling out"
It was the first time that Miss Calitz had been allowed to talk to family or friends back home since the pirate attack and she asked whether they would ever be released.
"Vera, is there any way we are going to get out of here?"
According to their families, the couple has a passion for sailing and had sold everything to fulfil a dream.
They are said to have been living very simply - "hand to mouth", as Debbie Calitz's brother, Dale van der Merwe, put it - fishing as they sailed.
Bruno Pelizzari is described by his sister as "an old surfer beach boy with salt in his blood".
'Brazen attack'
Dale van der Merwe said it was a "huge relief" hearing Debbie's voice.
"There was always a doubt in my mind as to whether she was actually alive."
They had been working on a "basic yacht", travelling from Tanzania back to South Africa when the pirates attacked. They had been hoping to see two grandchildren for the first time.
The pirates are believed to have been brandishing AK47s and rocket launchers, forcing them to turn towards Somalia.
Dale van der Merwe explained that the families were told of the pirate attack last November.
"Initially… I thought they had gone and perhaps exposed themselves unnecessarily," he said.
"But if you look at where they were taken, they were taken a hundred nautical miles off the Mozambique waters.
"That stretch of water is not deemed to be dangerous waters as far as piracy goes but it just shows you how brazen [the pirates] have become."
Earlier this year, a court in the Netherlands imprisoned two Somali pirates convicted of being involved in the attack on the yacht. They were detained by the Dutch navy.
The two families and friends are now desperately trying to raise money to secure the couple's release.
They say paying money seems to be the most successful way of safely resolving situations like this.
However, Vera Hecht says it is very difficult.
"We just don't have the money that they will accept. We're just trying our best to collect an amount of money that would be accepted - more acceptable to them," she said.
'High hopes'
I asked her how confident she is of seeing the hostages again.
In between taking two big breaths she said: "God is great. Oh goodness, that is what I am being told all the time. It's hard to believe but we just have to keep trying our best."
"We're running on instinct. There's no guidebook on which way to turn or what to do. We're just doing whatever we can".
Dale van der Merwe said the families are doing everything they can to bring them home safely:
"They [the pirates] have been threatening to kill them from day one and it's been a year now.
"They haven't killed them yet so my hopes are quite high that if we co-operate we will definitely get to see again."
The South African government said it is not going to intervene in the family's attempts to raise the ransom money and that it will continue to support them within its "consular mandate".