Libya ex-spy chief Moussa Koussa denies torture claims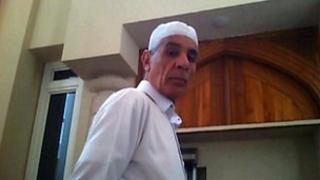 Muammar Gaddafi's former spy chief has denied claims made in a BBC documentary that he tortured prisoners.
Moussa Koussa, who fled to Britain from Libya in March, dismissed the allegations as "untrue and vengeful".
A former prisoner told the BBC Panorama programme that Mr Koussa used electric rods on him during interrogations.
Mr Koussa was once regarded as the slain Libyan ex-leader's right-hand man. He says he has co-operated fully with the country's new leaders.
"I have never tortured anyone nor been involved in torture," he said in a statement provided by his lawyers.
"Since my defection, I have co-operated with anti-Gaddafi forces in providing intelligence and information."
Mr Koussa also used the statement to deny that he had any knowledge of the 1988 bombing of a passenger plane over the Scottish town of Lockerbie.
By the time of his defection, Mr Koussa had risen to the rank of foreign minister in Gaddafi's government.
He is credited with playing a key part in the negotiations with Western governments that led Gaddafi to give up his weapons programme.
He now lives in a Qatar hotel, which he says is paid for by his friends.