Kenya arrest terror suspect with arms cache in Nairobi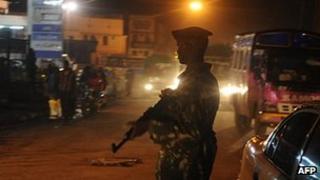 A man suspected of being a member of a terror cell has been arrested in Kenya's capital, the police chief says.
A cache of arms, including 13 hand grenades, an AK47, rifle, a machine gun, four pistols and ammunition were found in his flat in Nairobi, he said.
The arrest comes after two grenade attacks in the city killed one person and injured 29 others on Monday.
Police denied that they were linked to the Somali Islamist group, al-Shabab, who have threatened to attack Kenya.
"This is a person who is a member of one of the cells who have been involved in terrorist activities in the country," Police Commissioner Matthew Iteere told reporters at a house in Kayole, a suburb about 15km (10 miles) from Nairobi's city centre.
Last December three people died during a grenade attack at a bus in Nairobi. It was never clear who was behind it.
Correspondents say that although Monday's attacks were small, they are nevertheless causing a great deal of anxiety in Kenya.
The Kenyan government sent troops to Somalia more than a week ago to pursue the militants after accusing them of being behind a spate of abductions on its territory.
Al-Shabab, which is linked to al-Qaeda and controls much of southern and central Somalia, denies involvement in the kidnappings but has warned of reprisals if Kenyan troops do not withdraw from Somalia.