Madagascar: UN denies polio outbreak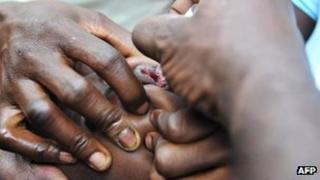 The UN children's fund has denied that there has been a polio outbreak in the Indian Ocean island of Madagascar.
It said that its office in Madagascar had issued a statement last week that led to the mistaken belief there had been an outbreak of wild poliovirus.
In fact the last such case was detected on the island in 1997, Unicef said.
The confusion had arisen because vaccine-derived poliovirus had been detected in three healthy children amid an immunisation campaign last week.
"The release may have led to a misunderstanding that there is an outbreak of wild poliovirus in Madagascar. Unicef wishes to clarify that there is no such outbreak," the UN children's fund said in a statement on Tuesday.
The BBC News website carried an article with the erroneous information on Sunday 23 October 2011.
Children require three to four polio vaccines - taken orally usually in their first year of life - to be immunized against the crippling disease.
In very rare instances, the virus in the vaccine can mutate into a form that can paralyse.
Unicef officials said an investigation had been launched to see why the three children had the vaccine-derived poliovirus.
They said low immunity on the island could be the reason.
The political crisis in Madagascar since 2009 has interrupted vaccination programmes across the country.
Shortages of fuel for refrigerators to store the vaccines, and the closure of 250 clinics, have reduced vaccination rates to less than 40% in the south.
Two further vaccination campaigns are now required to ensure 90% of the 700,000 children are vaccinated to ensure better immunity levels.
Unicef says between 2000 and 2009 10bn doses of oral polio vaccines were given worldwide, from which 14 cases of vaccine-derived polio virus led to 400 polio cases.
At the same time 14,000 children, who had not been immunized, were paralysed by the wild poliovirus.
26 October 2011: The original story with the erroneous information about a polio outbreak in Madagascar has been removed from the BBC News website.