Somalia: Workers for a Danish aid group abducted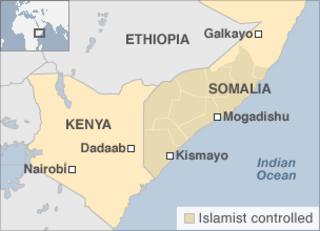 Gunmen have abducted three aid workers employed by the Danish Demining Group in north-central Somalia.
The Danish aid agency said a Somali national was taken along with two international staff members taken - a US woman and a Danish man.
A Somali security official told reporters they were kidnapped near the airport at Galkayo town.
Earlier this month two Spanish aid workers were taken from a refugee camp over the border in neighbouring Kenya.
Since September, there have been a spate of kidnappings of foreigners in Kenya, which Nairobi has blamed on the Somali Islamist group al-Shabab.
The group has denied any involvement.
Galkayo is not in al-Shabab territory.
Clan fighting
The town straddles the border between Somalia's northern semi-autonomous region of Puntland and another district in control of the Galmudug clan, which is aligned to the transitional federal government.
The Danish Demining Group said the abductions had occurred at 15:00 local time (12:00 GMT) and investigations were ongoing.
Ahmed Mohamed, a police officer in Galkayo, told AP news agency the two were taken in the southern part of the town, in Galmudug.
Correspondents say Puntland is relatively secure compared with other parts of Somalia, but there was some clan fighting in Galkayo last month.
Few Western aid workers travel to Somalia for fear of kidnapping by militias who demand huge ransoms for their release.
The Danish Demining Group helps dispose of unexploded bombs and teaches communities about the dangers of land mines.
Somalia has not had a functioning central government for more than 20 years.
The current UN-backed interim government controls only parts of the capital, Mogadishu, thanks to the efforts of a 9,000-strong African Union force.
Last week, Kenya sent troops into southern Somalia in pursuit of al-Shabab militants it blames for the recent kidnappings on its territory.