Tripoli celebrates, but on a smaller scale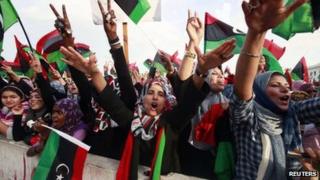 After eight months of bloody conflict, Libyans are on the threshold of a new dawn dubbed by officials as Liberation day - their independence from over four decades of dictatorship.
The crowd that gathered at the main square in Benghazi - the eastern city that will always be remembered as the birthplace of Libyan uprising - was massive.
The turnout was less impressive in the capital Tripoli, but grew as the sun set.
As Libya's interim head Mustafa Abdul Jalil addressed a jubilant crowd in Benghazi, those who showed up in Tripoli's Martyr's Square were cheering and emotional.
Some have attributed the small turnout in Tripoli to the declaration being announced from the east.
Others here, like Youssef, think Tripoli "is just partied out" - they have been out till the early hours since the announcement of Col Gaddafi's death.
Through rolling tears, 29-year old Amal al-Gomati said: "We are happy today, it means everything. Now we are alive, now we are human."
Two camels were brought to Martyr's Square on the back of a pick-up truck for a sacrificial killing to mark the occasion.
New beginnings
Libyan officials have announced what is viewed by many here as a "very optimistic" timeline for its journey towards an elected government.
Now that they have officially declared the country's liberation they are expected to form an elected Public National Congress within eight months and eventually - it is hoped - hold general elections another eight months later.
For a nation and a people that has never seen a ballot box, having moved from colonialism to a short-lived monarchy followed by despotic rule for more than four decades, the working timeline appears slightly premature.
Some Libyans have described the country and its people as "politically immature".
However, new beginnings at times bring with them surprising results - some Libyans are pinning their hopes on a success story.
For Tripoli university professor Dr Mahmoud Ramadan, it is an especially new beginning.
The country's freshly declared independence is a vindication of a painful memory unlikely to be forgotten.
His brother Mohamed Ramadan, an outspoken journalist and author who worked for the BBC Arabic Service, was murdered by suspected Gaddafi henchmen in London in 1981.
"I think it's a lot of time" he says of the NTC's schedule.
"The first election will be a practice run… and Libyans will learn from it. We underestimated the Libyan people for a long time. This uprising revealed, for example, how many English speakers we have and that they are educated and internet savvy," says Dr Ramadan.
"We need to hold elections as soon as possible otherwise it will take a decade. I think we are really in limbo now, everyone is doing whatever they want, too many weapons around, and the education sector has not kicked off yet. We need to move quickly."
How that will translate on the ground for the siesta-prone culture that dominates this society is an entirely different matter.
Clean-up time
"Justice will never be served until we can rebuild a true, democratic nation that our war veterans will be proud of and be satisfied they fought for the right cause," says Neleufer al-Badri.
She, like others in Tripoli, is celebrating the declaration of the country's liberation with an eye to the journey ahead.
Others have raised concerns over the financial transparency of their new leaders since the old regime's unfrozen cash began to trickle in a few months ago.
Everyone has a view to share these days - substantiated or not -in a "new Libya" with people determined to sidestep the entrapments of revolutionary fervour brought on by the uprising.
There is an inescapable scent of freedom this evening that has cut through the overpowering smell of burning rubbish that has hung over central Tripoli since the early hours of the day.
Disposing the city's waste into the atmosphere is a simple yet toxic way of ridding Tripoli from a minor challenge brought on by a severe shortage of foreign workers who once took care of a job few Libyans are willing to do.
The road to democracy after a war and 42 years of dictatorship is littered with immeasurable challenges: There is no easy way around it and no shortcuts to speak of.
It is this generation of Libyans who will ultimately need to step up and clean up the mess that tyranny so often leaves behind long after it has been disposed of.