Nigerian reporter death blamed on Islamists Boko Haram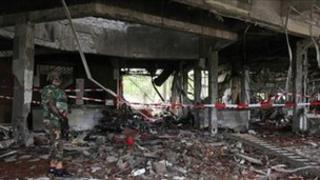 A cameraman for the Nigerian state-run television network has been killed by suspected Islamist militants.
Alhaji Zakariya Isa died after being shot in the head and chest at his home in the northern city of Maiduguri, a military spokesman said.
The authorities in Nigeria have blamed the attack on the Islamist sect, Boko Haram.
The sect is thought to be responsible for a series of attacks in northern Nigeria in recent months.
Boko Haram - which means "Western education is forbidden" - usually targets the police and government officials.
However, in recent weeks, journalists have been threatened by the group, which says it wants sharia law more widely applied across Nigeria.
It said it would target reporters after it claimed spokesmen who were not part of the sect were being quoted by the media.
Boko Haram is thought to have carried out the bombing of UN headquarters in the Nigerian capital, Abuja, killing 23 people.
The sect launched an uprising in 2009 which was crushed by the military, leaving hundreds dead.