Kenya: Region backs operation against Somali militants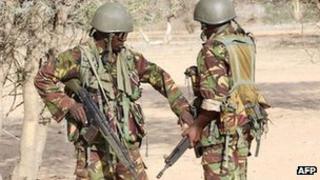 The regional grouping in the Horn of Africa has welcomed Kenya's military incursion into Somalia.
The organisation said it supported the move, and the agreement between Somalia's government and Kenya to co-operate in the operation.
Kenya says it is acting to protect its own security against the Somali Islamist militants of al-Shabab.
Earlier this week, Kenyan forces crossed the border, advancing on towns in southern Somalia.
The statement, from Igad, the Inter-Governmental Authority on Development, came at the end of a meeting in the Ethiopian capital, Addis Ababa, attended by ministers from the region.
Kenya's Foreign Affairs minister Moses Wetangula said the Islamist insurgents were being pursued by the Kenyan army, were on the run and growing weaker by the day.
Mr Wetangula said that Kenya's incursion into Somalia had made tremendous progress against al-Shabab which Kenya blames for a string of kidnappings on Kenyan soil.
The Igad communique said the region "welcomes and supports the up scaling of the security operation by Kenya" and backs the agreement between Kenya and Somalia's Transitional Government to "co-operate on all aspects of the operation".
Their remarks followed fierce clashes between al-Shabab and African Union peacekeepers backed by government forces in Mogadishu this week.
'A colonial graveyard'
On Thursday al-Shabab displayed 76 bodies said to be African Union troops killed in the fighting - a claim the AU denied.
An AU spokesman dismissed the claim as propaganda and said 10 of its soldiers had been killed and two were missing.
The AU has 9,000 troops in Somalia to back the weak interim government.
But a statement from the leader of al-Shabab, Ahmed Godane, broadcast on the militants' radio station said they had taught the AU force, Amisom, a lesson they would never forget.
"Mogadishu is a graveyard for colonialists," Mr Godane said.