Kenya's loo king: Moses Nderitu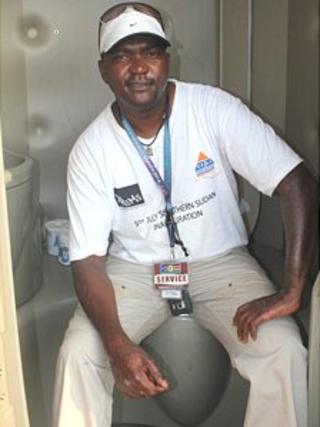 Moses Nderitu, a former television producer who has made a fortune out of managing other people's waste, proudly describes himself on his Twitter account as "the loo-king of Nairobi".
The inspiration for his business came when he was shooting an advert on location in South Africa.
"These little trailers came and they said 'Those are the toilet facilities' and I thought, 'That's a good idea,'" he told the BBC's series African Dream.
"I thought maybe I'll buy one and use it for the production company but then it ended up I couldn't buy just one because I had to put them into a container to ship them to Kenya, so I ended up having four," he explains.
Instead of using the toilets exclusively for the production company, he decided to start hiring them out.
From these humble beginnings his current mobile restroom company, Excloosive Limited, was born.
"It was quite hard… I remember going to functions and asking people: 'Would you like to hire a toilet?', and they all looked at me like I was crazy," Mr Nderitu remembers.
"We went for almost six months giving people toilets for free."
He believes the problem was "a bit African".
"We don't like to discuss toilets so whenever you brought it up people shied away from it and the ones who took it put them in the furthest corner," he says.
Power of small victories
He said almost a year passed before people started calling him and saying that the toilets made sense.
So what has he learned about business?
"That everything that is in the books is rubbish. Everything you're going to learn, you're going to learn it on the job," he told the BBC's Kevin Mwachiro, laughing out loud.
"What else have I learned? That if you believe in something and you keep at it, sooner or later it will bear fruit, and at least I'm able now to employ directly around 20 people.
"Indirectly I employ another, probably, 100, and they're all enjoying the fruits of the business."
Mr Nderitu adds that he has also learned how resilient he is.
"There have been many times, as a businessman, that I felt I needed to give up and it was not working. You ask yourself, 'Is it time to look for something else?', but somewhere deep you always find the strength to carry on," he says.
"Now I appreciate the small victories even more than the big victories. The small victories are the ones that keep you going."
And what advice would he give to people who want to start a business but are afraid to take the plunge?
"I don't understand fear because all fear does is it stops you from achieving your real potential. So what you should do is just get on with it," Mr Nderitu replies.
"If you get on with it and you fail, that's actually a good learning because then next time you know what not to do.
"But if you don't get started, then you'll always believe that 'I could have done it' but you'll have nothing to show for it."
African Dream is broadcast on the BBC Network Africa programme every Monday morning.
Every week, one successful business man or woman will explain how they started off and what others could learn from them.