AU rejects al-Shabab bodies 'stunt' in Somalia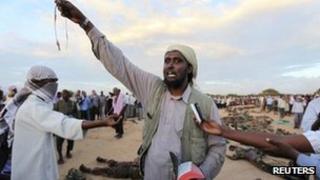 The African Union has denied that 70 bodies displayed by Somalia's militant Islamist group al-Shabab were those of its troops killed in fighting.
Al-Shabab showed the bodies to journalists, claiming they were Burundian soldiers killed in Mogadishu on Thursday.
An AU spokesman dismissed the claim as propaganda and said 10 of its soldiers had been killed and two were missing.
The AU has 9,000 troops in Somalia to back the weak interim government.
Meanwhile, two doctors in neighbouring Kenya have been charged with membership of al-Shabab, a banned organisation.
Kenyan nationals Ali Omar Salim and Adan Hassan Hillow pleaded not guilty during a court appearance in the capital, Nairobi, on Friday.
They were arrested by anti-terrorism police on Wednesday, amid growing concern in Kenyan government circles that al-Shabab has built a strong presence in the country.
Kenya has sent troops into Somalia, prompting al-Shabab to threaten reprisals
Row of bodies
In August, al-Shabab announced a "tactical withdrawal" from Mogadishu and the AU said it was in control of most of the city.
But fighting has continued and the two sides clashed throughout Thursday in the city's Dayniile district.
"We have killed more than 70 of the enemy soldiers... We have inflicted heavy losses on them [AU troops] and you can see their dead bodies," al-Shabab
spokesman Sheikh Ali Mohamud Rage said, AFP reports.
Photographs show a row of bodies - some of them decapitated - on display in Alamada, an al-Shabab stronghold outside Mogadishu.
Many of the dead were wearing flak jackets and helmets - equipment issued to AU troops, the AP news agency reports.
But AU spokesman Lt-Col Paddy Ankunda said al-Shabab had dressed up their own dead troops in uniforms.
BBC East Africa correspondent Will Ross says that in the past, the AU has been reluctant to admit to heavy losses.
Al-Shabab has been weakened but the ongoing battle for total control of Mogadishu and the recent suicide bombings show that the capital is still far from stable, he says.
The al-Qaeda linked group controls many areas of southern Somalia.
More than 70 people were killed in a suicide attack in Mogadishu on 4 October and five people were killed in an attack on 18 October.
Kenya sent troops to Somalia on Sunday, accusing al-Shabab militants of kidnapping foreign nationals from Kenya - charges denied by the militant group.
Those abducted include two Spanish doctors who were working in Dadaab, the world's largest refugee camp.
Hundreds of thousands of Somalis are taking refuge in Kenya and Ethiopia to escape conflict and famine.
The UN declared a famine in six areas of Somalia earlier this year.
All are controlled by al-Shabab, which restricts access to their areas by international aid agencies.