Tunisia election: Loving and loathing Islamists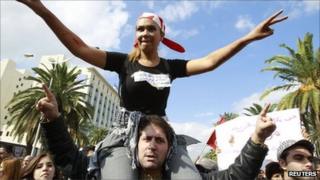 Far from the smart cafes and bars in downtown Tunis, the capital of Tunisia, a family of 26 is living under carpets and tarpaulins next to a roaring motorway.
Following the "Arab Spring", it is now a crisp autumn day in the suburb of Siciliana and 26-year-old Neila Herela walks me towards her family's small fire burning on the open street.
"I'm not going to vote in these elections," she says tearfully, as a small child drags a huge water carrier across the street. "Look at my family, living on the street - on the pavement."
Ms Herela's grandmother wants to show me a wound on her leg - she had an operation to remove a growth but the family can't afford the surgery to heal the hole left behind.
"I have a diploma in publicity and marketing," she says, clutching a certificate in Arabic. "But I can't find a job. Can you imagine - I don't even have an address to give to a potential employer."
I met Ms Herela as I followed candidates from the Tunisia for Tomorrow (TfT) party on the campaign trail - the first time she could remember any politicians coming.
The story of young people like Ms Herela and their struggle to find work has been called the spark that set off January's Jasmine revolution.
Mohammed Bouazizi - a young street vendor from the central town of Sidi Bouzid - set himself on fire in December, allegedly after repeated harassment by the Tunisian authorities.
He never regained consciousness to see what followed and died on 4 January.
Sipping lattes
The symbols of the revolution are everywhere on the smart boulevard Avenue Bourguiba in central Tunis, where old-fashioned trams rattle along streets lined with lamps which are replicas of those on Paris's Champs-Elysees.
In one bookshop, a red souvenir book screams Degage at passers-by - a French phrase which means Clear Off.
It became a rallying cry for everyone who wanted former President Zine al-Abidine Ben Ali to leave.
There is also a comic-strip book and another on the bloggers who did so much to bring down the president by organising protests using social media.
But the revolution has not brought work - in fact the Tunisian Workers' Communist Party (PCOT) claims that unemployment has actually gone up since January.
Sunday's vote for a constitutional assembly will not bring quick results - the body will have a year to write a constitution, and only then will presidential elections take place.
Still, the remarkable thing is that most of the young people I have spoken to seem patient and willing to see the process through.
If anything, the biggest problem is confusion about how the voting system works.
"It's hard for people who've had no experience of democracy to follow this process," says Syrene Mohammed, a young radio journalist.
"In some cases, people will go to vote and there will be nearly 100 names on the list."
We are sitting in one of Tunis's plushest restaurants - Le Golfe in the upmarket suburb of La Marsa.
The restaurant looks out over the Mediterranean Sea crashing against the shore, as heavy autumnal rain lashes against the window-pane obscuring the view of a lone fisherman on the beach.
We are sipping lattes. This is a Muslim country but wine is also on sale here.
Ms Mohammed does not wear a veil. This scene could be a snapshot of the big questions facing Tunisia.
Split loyalty
The moderate Islamist Ennahda party, banned during Mr Ben Ali's rule, looks sure to win the biggest share of votes in the election.
Its main challengers are the Progressive Democratic Party (PDP), a well-established secular party, and The Democratic Forum for Labour and Liberties (DFLL) party, which is standing on a social democratic platform.
Ms Mohammed tells me Ennahda was repressed under the strictly secular regime of Mr Ben Ali - but this gave it more political experience and profile than most other parties.
Tunisia still has to chart a path for its new constitution between looking out across the sea to Europe, or turning towards its Arab Muslim neighbours.
Demonstrations which turned violent last week after a TV station showed the film Persepolis, depicting a young Iranian girl's struggle with her faith and identity, reflect that tension.
Ms Mohammed herself was recently involved in the screening of a film which pokes fun at religion and she worries that some groups may react negatively.
"We have to challenge ourselves and debate these issues, but it's clear some people don't want that," she says.
When I ask young people in the street what they think of Ennahda, it is either love them or hate them.
The party has been at pains to insist it does not want a constitution based on Sharia law and that it will uphold women's rights.
These elections are only the first step in setting up a robust new system. And if Ennahda does well, then that is democracy - something Tunisia is still learning how to deal with.