Amnesty urges Libya to tackle 'stain' of detainee abuse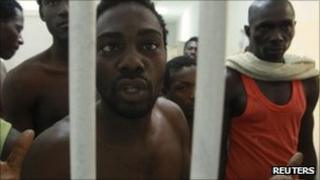 Libya's interim authorities must end arbitrary detention and abuse of inmates, Amnesty International says.
In a report, the London-based rights group said it had uncovered evidence of torture and ill-treatment of thousands of people detained in recent months.
Sub-Saharan Africans suspected of being Col Muammar Gaddafi's mercenaries were particularly targeted, it said. The NTC pledged to look into the claims.
There are unconfirmed reports Col Gaddafi's son Mutassim has been seized.
Some figures in the National Transitional Council said he had been captured in the family's embattled home town of Sirte.
However, a military commander in the city denied the claims, which have sparked celebratory gunfire in several cities.
If confirmed, Mutassim Gaddafi's capture would be a major breakthrough for the NTC, says the BBC's Caroline Hawley in Tripoli.
He is a senior officer in Col Gaddafi's army and was a national security adviser to his father.
NTC forces have said they control most of Sirte, but the BBC's Wyre Davies in the city says they have been pushed back slightly in fighting since Wednesday.
AFP news agency reported that anti-Gaddafi fighters had withdrawn 2km to the police headquarters and were planning to bombard loyalist positions with artillery.
The fighters had been hoping to avoid using heavy weapons, as there were still civilians in the area.
Making 'clear break'
Amnesty published its report - entitled Detention Abuses Staining the New Libya - after interviewing some 300 prisoners.
It visited 11 detention facilities in and around the capital Tripoli and in the cities of Zawiya and Misrata between 18 August, just before Tripoli fell, and 21 September.
The group said it had found a pattern of torture and abuse of suspected Gaddafi loyalists, as well as soldiers and suspected mercenaries.
"In some cases there is clear evidence of torture in order to extract confessions or as a punishment," the report said.
It said that researchers had found torture instruments in one detention facility, and also had heard whipping and screaming sounds in another prison.
At least two guards from separate detention facilities had admitted to beating inmates to get confessions, Amnesty said.
In another case, a 17-year-old Chadian accused of rape and being a Gaddafi mercenary had said the beatings were so severe that he had decided to "confess".
"I ended up telling them what they wanted to hear. I told them I raped women and killed Libyans," the Chadian inmate told Amnesty.
'No tolerance of abuse'
In the capital Tripoli and surrounding areas alone, NTC forces have captured some 2,500 people, mostly without arrest warrants.
"We understand that the transitional authorities are facing many challenges, but if they do not make a clear break with the past now, they will effectively be sending out a message that treating detainees like this is to be tolerated in the new Libya," Amnesty's Hassiba Hadj Sahraoui said.
She added: "The NTC has to act urgently to translate their public commitments into action, before such abuses become entrenched and stain the new Libya's human rights record."
The report also urged the Libyan authorities to bring all detention facilities under the justice ministry's control to allow inmates to challenge the lawfulness of their arrests.
The NTC has repeatedly said it is committed to upholding human rights and reforming the country's justice system.
Reuters news agency quoted council spokesman Jalal al-Galal as saying: "[NTC Chairman] Mustafa Abdel Jalil has said time and time again that he will not tolerate abuse of prisoners and has made it abundantly clear that he will investigate any such allegations."
The Amnesty report raises fears of a return to the types of abuses committed in the Gaddafi era. Torture and mass killings were widespread both before and during this year's conflict as any dissent was quickly suppressed.