Libya conflict: Pro-Gaddafi troops 'cornered' in Sirte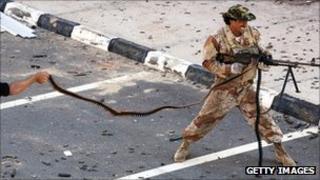 Libya's interim government forces say they have pro-Gaddafi troops "cornered" in two small areas of Sirte.
One commander told Reuters they had backed the loyalists into about 2 sq km (0.7 sq mile) of land near the sea.
But heavy fighting continues in Sirte, the home town of fugitive former leader Col Muammar Gaddafi, as the loyalists put up fierce resistance.
The National Transitional Council (NTC) says that once Sirte falls, they will declare national liberation.
Their troops made significant gains on Sunday - capturing the university, the Ouagadougou conference centre and the main Ibn Sina hospital.
The BBC's Wyre Davies, who visited the hospital on Monday, said there were dozens of injured people lying in wards and corridors. He saw several civilians who had been injured in the fighting, including two young children with shrapnel wounds.
The hospital itself bears the scars of heavy shelling, he reports, and staff from the International Committee of the Red Cross (ICRC) have only just been able to get in and assess the humanitarian situation.
Scenes at the hospital have generated concerns about the situation for civilians in the city centre caught up in the current fighting, our correspondent adds.
Heavy losses
"Gaddafi's forces are cornered in two neighbourhoods near the sea, an area of about 2km sq, but there is still resistance," Abdul Salam Javallah, commander of NTC units from eastern Libya, told Reuters.
"We are dealing with them now with light weapons because there are still families inside."
Despite his claim that only light weapons were being used, columns of troops backed by tanks were seen moving into the city centre on Monday.
NTC fighters launched what they called the final assault on Sirte on Friday - dozens of anti-Gaddafi troops have been arriving from across Libya to join the battle.
But they have been surprised by the level of resistance from an enemy that has rejected an offer to surrender and has vowed to fight to the bitter end.
NTC forces suffered heavy losses on Sunday. Dozens of dead and wounded were seen by our correspondent at a field hospital outside Sirte.
And they had to call for reinforcements in the desert enclave of Bani Walid - another Gaddafi stronghold - after losing 17 fighters.
NTC chiefs admit the battles have been vicious, but say they are still optimistic they will "liberate" both Sirte and Bani Walid this week.
Separately, in the capital Tripoli, more than 200 heavily-armed gunmen have attacked a mosque and ransacked the tombs of two imams, the AFP news agency reports.
One resident in the north-eastern district of al-Masri said a gang arrived at 2200 local time on Sunday in pick-up trucks with heavy machine guns.
"They forced open the mosque's door and then started to dig up the tombs of Imams Abdel Rahman el-Masri and Salem Abu Seif, and made off with their relics," the man said.
Another resident said the men had beards and were in military uniform and speculated that they were Islamist extremists. "They were very well organised. Men sealed off the perimeter of the mosque and were communicating with walkie-talkies," he said.