Is Mo Ibrahim's award building or hurting Africa?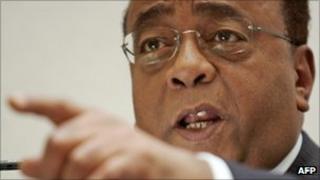 I appreciate the logic and the intentions behind Mo Ibrahim's generous annual award for African leadership. How can you argue with the idea of encouraging and rewarding good governance? Not least on this particular continent.
And yet, something about the $5m (£3.2m) prize has always bothered me.
Lurking behind Mr Ibrahim's worthy aims is the niggling sense that the money amounts to an annual bribe - a bribe for not accepting bribes - dangled like a fat carrot in front of the continent's elites, in the hope of steering them towards the sort of behaviour that should surely be taken for granted.
Isn't the uncomfortable link between money and power being reinforced, rather than broken?
The fact that the prize wasn't awarded for two years, because of a lack of suitable candidates, probably made some ex-presidents squirm and fume, and, perhaps, a few incumbents scratch their chins.
But are we really to think that Rupiah Banda relinquished the presidency in Zambia last month because he was holding out for Mr Ibrahim's pension plan? Is penury a genuine prospect facing any of the continent's incumbents?
I suppose what I'm asking is whether there isn't a better, less "top-down" way to reward a whole country for championing democratic norms, rather than an individual. Could a better incentive scheme be found?
Maybe the president gets the award, and the kudos, but the cash goes to a charity or a scheme chosen by the public?