Can Somalia's Islamist militants retake Mogadishu?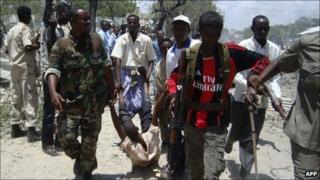 Despite the recent setbacks Somalia's militant Islamist group al-Shabab has suffered on the battlefield, it has shown that it still has the capacity to strike in the heart of the capital, Mogadishu.
A suicide bomber killed more than 75 people on Tuesday after detonating a truck laden with explosives outside government buildings in Kilometre Four (K4) - a busy crossroads in central Mogadishu.
Among the dead and injured were many students waiting to see if they had gained a scholarship to study in Turkey.
"The scale of the attack has been a surprise to everybody," Matt Bryden, a UN investigator on al-Shabab, told the BBC.
"We haven't seen anything this large for a number of years."
Two months ago, al-Shabab announced that it was withdrawing its fighters from Mogadishu in the face of a sustained assault from African Union (AU) and government troops.
Analysts said al-Shabab - which has up to 9,000 fighters - was no longer able to engage in street battles with the better-equipped AU troops, who also number about 9,000.
It therefore withdrew to focus on the bombing campaigns for which it has gained notoriety.
"What was surprising was that al-Shabab does not seem to have learnt from past experience. The attack will cause a public backlash. It will hardly do the movement any good," says Mr Bryden.
The explosion happened at a time when al-Shabab's credibility among Somalis is already low because of the famine that has hit the southern and central areas under its control.
Tens of thousands of people have defied al-Shabab by fleeing their homes in search of food, blaming the group for the hunger crisis.
It has refused the UN World Food Programme (WFP) and other Western aid agencies permission to distribute food in its areas, accusing them of being anti-Islamic and of being infiltrated by US and UK intelligence agencies.
AU troop reliance
But analysts say al-Shabab is actually divided over whether to allow in the aid agencies. In fact, the International Committee of the Red Cross has just negotiated the delivery of aid for farmers and pastoralists deep into some al-Shabab areas.
Leaders with a constituency in famine-hit areas - especially Muktar Ali Robow, who comes from the southern Lower Shabelle region, once the breadbasket of Somalia - favour accepting Western aid.
However, they are strongly opposed by the overall leader, Ahmed Abdi Godane, a northerner who has led al-Shabab into forging close ties with al-Qaeda.
"The attack may sharpen differences between the constituency-based and constituency-free al-Shabab, which is made up of northerners, foreign fighters and ideological hardliners," Mr Bryden says.
Other analysts say the attack also reflects poorly on the AU-backed government.
Despite al-Shabab's withdrawal from the capital's streets, it has failed to improve security with no troops guarding the busy crossroads at the time of the blast.
"The AU has a vast area to cover. K4 is usually considered to be a relatively secure area," Mr Bryden says.
The AU mission in Somalia (Amisom) has been appealing for more troops so that it can hold on to territory captured from al-Shabab.
"We are controlling about 95% of Mogadishu [but] you know how terrorists work - they get an explosive and load it with drums of fuel to cause maximum damage," Amisom commander Maj Gen Fred Mugisha told the BBC.
Neighbouring Djibouti and the West African state of Sierra Leone have pledged to send 3,000 extra troops over the next year, boosting the AU contingent to 12,000.
"I would have wished to have these troops yesterday," Mag Gen Mugisha said.
Mr Bryden says the government - widely seen as weak and effective - needs to take steps to secure Mogadishu, rather than relying on AU troops.
"The security of a city is the job of the police. The [government] needs to build up the functions of its security sector, especially the police force," Mr Bryden says.
He said despite the attack al-Shabab was considerably weaker than a few years ago.
Drone attacks
"Amisom has improved its own defences. It has scaled up its operations and it has made it more costly for al-Shabab to operate," Mr Bryden says.
With AU forces controlling most of Mogadishu, al-Shabab has suffered a major blow as it is no longer able to tax businesses to finance its operations.
The port city of Kismayo is now al-Shabab's main financial base, as it taxes importers and exporters.
Last month, the US - which has a military base in Djibouti - launched drone attacks around Kismayo, with residents saying three targets had been hit.
Mag Gen Mugisha says he is confident that the military campaign will lead to al-Shabab's defeat.
"Rest assured, we will liberate Mogadishu not long from now. We will also kick out the terrorists from the rest of Somalia," he told the BBC.
Other Somali observers are not so sure, pointing out that Amisom had made such boastful statements in the past - only for al-Shabab to strike back.
But Mr Bryden says the fact that al-Shabab carried out the attack in the K4 reflects its weakness.
"It targeted their social ministries. If it was strategic it would have hit the presidency or the military headquarters. But is no longer capable of hitting harder targets," he says.