Uganda LRA rebel tracking technology unveiled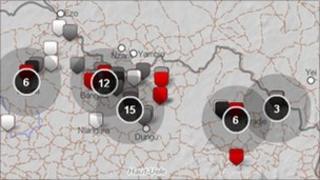 A new system of radio links has been developed to try to counter a rebel movement whose attacks have plagued vast areas of Central Africa.
Funded by US charities, it will allow remote communities to warn each other.
So far this year around 140 civilians have been killed and more than 600 abducted by the Lord's Resistance Army.
All the incidents will now be displayed on the LRA Crisis Tracker website which can also be used by Congolese and Ugandan troops fighting the rebels.
"Through these series of high frequency radios, communities can now be able to connect and communicate with one another, letting each other know where this rebel group is moving, being able to broadcast security reports, and then being able to defend themselves from LRA attacks," Adam Fink of the US-based charity Invisible Children, which helps fund the operation, told the BBC.
According to the San Diego-based charity, the device was developed in response to a massacre in December 2009, where 321 civilians were killed by the LRA in north-eastern Democratic Republic of Congo.
Despite the scale and brutality of the "Makombo massacre", the international community did not learn of the incident until March 2010 - three months later.
LRACrisisTracker.com now gives an immediate update on the current situation.
The LRA has brought misery to villages across the region for more than two decades.
The rebel group originated in Uganda 20 years ago and initially claimed to be fighting to install a theocracy in the country based on the Biblical 10 commandments.
But the rebels now roam across parts of Sudan and Central African Republic (CAR), as well as north-eastern DR Congo.
LRA leader Joseph Kony is wanted by the International Criminal Court (ICC), and now lives an itinerant life, crossing between Sudan and the CAR.
In 2008, he was about to sign a peace deal, negotiated by South Sudan, but at the last minute he refused to lay down his arms.
Last year, the US government unveiled a strategy to work with regional governments to protect civilians from LRA attacks.