Miss Universe plans Angola's makeover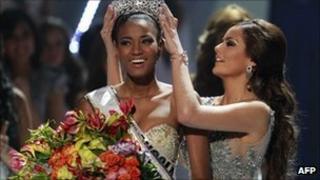 Angolan Leila Lopes has told the BBC her tenure as Miss Universe 2011 will improve the world's negative view of her country as a war-torn nation.
"Until two weeks ago, not many people could locate Angola on a map," the 25-year-old business student said.
Since 2002, Angola has been striving to tackle the legacy of a long civil war.
"Some people even still think that we live in trees, and we are always fighting, no no no, we have peace, and we have beautiful places," she said.
Ms Lopes was crowned Miss Universe last month in the Brazilian city of Sao Paolo, becoming the second African to win the title in 12 years.
She edged out contestants from Ukraine, Brazil and the Philippines in the contest's 60th year.
"People have been waiting for an African Miss Universe for a long time, so I feel proud that after 12 years, there is an African Miss Universe," she told the BBC's Network Africa in New York.
Angola - one of Africa's major oil producers where two thirds of the people remain in poverty - has long been portrayed as a war-ravaged country.
Ms Lopes said it was her mission to change this view.
"We were at war for [almost] 30 years, but we've been at peace for almost nine years," she said.
"Angola is a fast growing country, everything is going perfectly now, and this is what I want to show to the world.
"We've also got amazing food, great weather; it's like the best place to be."
She says since winning the title her life has dramatically changed: "I used to be a student but now I'm going to travel around the world."
'More than looks'
Even President Jose Eduardo dos Santos, who has been in power for 32 years, sent her a congratulatory message, she said.
"They are so proud of me, and I think it's an honour for not just Angola, but for Africa as well."
Ms Lopes explained that winning a pageant like Miss Universe required more than just beauty.
"Aspiration and personality come first before looks. You must have a great personality."
People who described beauty pageants as old fashioned, sexist and politically incorrect were "entitled to their own opinions", she said.
But she urged them to look beyond the glamour and look at the invisible power that comes with the title.
"As Miss Angola, my main project was working with children in desperate need, sometimes I didn't even have money or clothes or medicines to give to them when I visited them in hospital.
"But they were very happy to see me every time I went.
"I don't know why, but this is the power that the beauty pageants bring."