Shark victim in South Africa 'saved by tourniquet'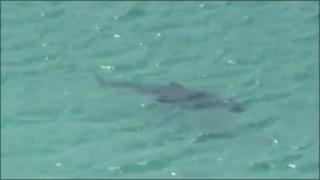 The surgeon who operated on a man attacked by a shark in South Africa says his life was saved by a wetsuit used as an emergency tourniquet.
Michael Cohen, a 42-year-old thought to be a British citizen, had a leg bitten off and another severed below the knee.
He was swimming at Fish Hoek Beach, near Cape Town, which shut after the shark sighting.
Professor Andrew Nichol said the tourniquet was "amateur" but effective in stemming Mr Cohen's blood loss.
He said: "That tourniquet has consisted of a wetsuit applied around the thigh and wrapped around with two belts very, very tightly.
"It was an amateur tourniquet but it had almost completely resulted in a cessation of blood loss.
"I just want to commend the first aid work of those on the beach and the tremendous way in which they responded actually saved the life of this patient."
A white flag warning of the presence of a great white shark was flying on the beach at the time of the attack.
Amateur footage showed Mr Cohen being airlifted by helicopter from the scene and a large shark in the water. He is said to be in a critical condition.
The victim, believed to be a British expatriate living in South Africa, entered the water about an hour-and-a-half after the shark had first been seen.
Heavy blood loss
Prof Nichol described Mr Cohen as "critical but stable, on extremely strong antibiotics and going into theatre again tomorrow".
He also said Mr Cohen had needed seven litres of blood after suffering from massive blood loss.
Prof Nichol also said he had spoken to the victim's family, describing them as "traumatised" by the incident.
National Sea Rescue Institute spokesman Craig Lambinon told the South African Press Association: "It appears [the victim] was rescued from the water by a bystander who left the scene before we could identify him.
"The man was conscious when paramedics attended to him on the beach, but was sedated on scene by paramedics in their efforts to stabilise the patient."
A Foreign Office spokeswoman said: "We are aware of reports that a British man has been attacked by a shark off the coast of South Africa. We have offered consular assistance."