Kenya deputy PM Uhuru Kenyatta denies violence claims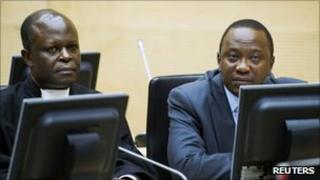 Kenya's deputy prime minister has denied claims that he orchestrated violence after the 2007 election, in a preliminary hearing at the International Criminal Court (ICC).
Uhuru Kenyatta told judges in The Hague that crucial parts of the prosecution's evidence were wrong.
He wants the case dismissed before the ICC brings him to trial.
More than 1,200 people were killed and 600,000 fled their homes in weeks of unrest after the 2007 election.
The violence began as clashes between supporters of the two rival presidential candidates - Raila Odinga and Mwai Kibaki.
But it snowballed into a bloody round of score settling and communal violence.
Mr Kenyatta, a supporter of Mr Kibaki, is accused of organising a campaign of violence including murder and rape against Odinga supporters.
Prosecutors say he met members of a secretive criminal organisation known as Mungiki at a shopping mall in Nairobi before the election in 2007 to arrange some of the attacks.
"Your honours, that event never happened," he told judges.
He said he would never hold any kind of meeting at the centre.
"That is where [my wife] does her shopping," he said.
Mr Kenyatta, the son of the country's first President Jomo Kenyatta, is hoping to stand in next year's presidential poll.
He is accused of crimes against humanity including murder, rape and forced displacement.
Two other senior Kibaki supporters face similar allegations.
Three supporters of Mr Odinga face claims that they organised attacks on Kibaki supporters.
They all deny the allegations.
Analysts say Mr Kenyatta's testimony could be crucial in deciding the fate of all six men.
Kenya's government has been lobbying for the cases to be dropped - a position endorsed in February by the African Union.
Mr Kibaki was eventually declared the winner of the election, and is serving his second term as president. Mr Odinga was installed as prime minister.