Libya forces take airport in Gaddafi-stronghold Sirte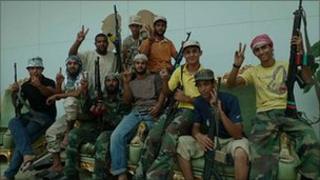 Forces loyal to Libya's transitional authorities have taken the airport in the city of Sirte, the birthplace of fugitive leader Muammar Gaddafi.
Fighters moved through the partially destroyed terminal buildings tearing down symbols of the Gaddafi regime.
The whereabouts of the ousted leader remain unknown but several members of his family have fled Libya.
His son Saadi is in Niger. Hours after an arrest warrant was issued, Niger's PM said he would not be extradited.
International police agency Interpol's "red notice" for Saadi Gaddafi's arrest says he is wanted on allegations of misappropriating properties through force and armed intimidation when he headed the Libyan Football Federation".
The agency said that as the commander of military units alleged to have been involved in violence against civilians, he was also subject to a UN travel ban and assets freeze.
Speaking in France, Niger's Prime Minister Brigi Rafini said Saadi Gaddafi was safe and "in the hands of the Niger government" in the capital Niamey.
"There's no question of him being extradited to Libya for the moment," Mr Rafini told the AFP news agency, saying he would not receive a fair trial if sent home.
Interpol has already issued red notices for Col Gaddafi and another son, Saif al-Islam.
Nato strikes
Gaddafi loyalists have been putting up stiff resistance in Sirte since the troops supporting the National Transitional Council (NTC) began their assault.
Two weeks ago NTC forces took the airport, about 5km (3 miles) from central Sirte, but were then driven back.
The BBC's Jonathan Head says that this time they hope to hold it, despite facing continued rocket and gunfire from the other side of the runway.
Fighters arriving from the west and east say they will then mount a joint attack on Gaddafi loyalists, hoping to push them back towards the sea and to squeeze them into ever smaller areas of the city centre, our correspondent adds.
Forces loyal to Libya's National Transitional Council (NTC) also recently seized Sirte's port.
Heavy fighting continued there on Thursday, with the two sides shelling each others' positions and trading machine-gun fire.
Nato planes have been carrying out air strikes in the area against military targets including ammunition storage facilities.
In Bani Walid, another remaining loyalist stronghold, NTC forces appeared to be making little progress on Thursday.
"There is always incoming missile and artillery fire. We are returning fire with heavy weapons but we are not sending in infantry. We are waiting for reinforcements," NTC commander Walid Khaimej told AFP news agency.
"Nato is here but is not doing enough. They take out the rocket launchers firing at us, but they are immediately replaced."
'Inspire the world'
A delegation of US Republican senators visited Tripoli on Thursday in a show of support for the NTC.
Arizona Senator John McCain told a news conference that the people of Libya continued to "let people know that even the worst dictators can be overthrown and be replaced by freedom and democracy".
But he said it was important that for the NTC to bring the various armed groups under control and secure the "many weapons and dangerous materials that the Gaddafi regime proliferated around this country".
Mr McCain was joined on the visit by fellow Republicans Lindsey Graham of South Carolina, Marco Rubio of Florida, and Mark Kirk of Illinois, who said he believed fighting would be over "by the end of October".
NTC officials have said they believe Col Gaddafi may be hiding in Libya's southern desert - one of his sons, Mutassim, is thought to be in Sirte, and another son, Saif al-Islam, in Bani Walid.
Col Gaddafi's wife and three of his children fled to Algeria last month. A number of his entourage went further south, to Niger.
Prosecutors in Tunisia said they had received a request for the extradition of former Libyan Prime Minister al-Baghdadi Ali al-Mahmoudi and were therefore keeping him in detention.
Mr Mahmoudi had been sentenced to six months in prison last week on charges of entering the country illegally, but an appeals court overturned his conviction and ordered his release on Thursday.