Rebels fighters hunt in the desert for Colonel Gaddafi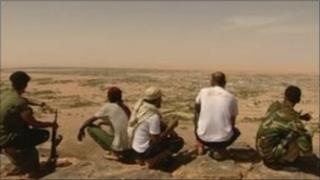 Deep in the desert, Libya's revolutionaries are pushing south and west, hunting for Col Muammar Gaddafi and his fighters.
They are moving from one oasis to the next, chasing rumours into the sands of the Sahara.
A little more than a month after Tripoli fell, the forces of the National Transitional Council (NTC) have almost reached the farthest corners of the nation.
Many rumours say that Col Gaddafi and his closest supporters are roaming the deserts in the south or west of Libya, with a band of Tuareg fighters.
The area where many believe he may be stretches from the towns of Sabha and Ubari to Ghat and Ghadames close to the borders with Algeria and Niger.
Local support
The strategic city of Sabha was captured last week. We followed one convoy of NTC fighters as they headed further out into the Sahara.
They were a ragtag group in battered "technical" pick-up trucks, mounted with anti-aircraft guns, rocket launchers and heavy machine guns.
They were driving to Ubari, 200km (120 miles) away. The road to Ubari passes long stands of date palms.
Beyond rise enormous, yellow sand dunes that disappear far into the distance in the hot, hazy Sahara.
Red outcrops of soft, sandy rock sprout from the desert, topped by black, volcanic stone from which rise shimmering haze.
Sweltering hot and fly-blown, the little desert outpost of Ubari is now the limit of the revolutionaries' advance.
Tuareg tribesmen lounged against walls, sheltering in the shade. A huge poster of Col Gaddafi had no face - it had been blasted away by gunfire.
One fighter in the town told us they had entered Ubari last Thursday without suffering any casualties.
"Many people here supported Gaddafi before, and still do" he said, "so we can't go everywhere in the town yet."
Some streets remained barricaded and flying the green flag of Col Gaddafi's Libya.
Looting
The fighter told us that he had heard the colonel's number two, his brother-in-law and intelligence chief, Abdullah Sanussi, was in Ubari just the day before the NTC forces reached the town last week.
Mr Sanussi, like the former leader, is wanted by the International Criminal Court for alleged crimes against humanity.
Dr Shahid Batenya, a Bangladeshi medic working in the hospital, said 90% of people in Ubari are probably still Gaddafi supporters.
He said the regime had handed out hundreds of weapons after the revolution began, trying to encourage people to fight.
Dr Batenya said pro-Gaddafi troops had looted doctors' quarters after evicting them at gunpoint.
"There was nobody here to help us," he said. "We fear they could return and it will happen again."
At the far side of Ubari sits a military base that was used by Tuareg fighters in Col Gaddafi's army. Just a few Tuareg who have joined the revolution are left there.
One of them, Abdullah Suqi, told us his commanders fled along with hundreds of men towards Niger last week.
Another, Omar Sedi, said he did not believe Col Gaddafi could survive for long in the desert without logistical support and people to provide him with fuel, food and water.
Beyond Ubari, there is nothing but sand and rock stretching the 350km to the borders of Niger and Algeria. The road is the one Col Gaddafi's family used to flee Libya.
But while many say Col Gaddafi's intelligence chief was here, nobody has seen the former leader himself - it is as if he has vanished into the desert.
Fighting to the death
The town of Sabha was long a bastion of support for Col Gaddafi. His own tribe is strong there, and the town controls the routes south and west out of the country.
So it was a surprise when Sabha fell relatively easily last week. After they moved in, the NTC fighters detained Mohammed el-Madani.
A university professor, he has known Muammar Gaddafi for about 50 years, since they were both students together.
Mr Madani served as one of Libya's five representatives to the Pan-African Parliament. We met him at a location where he is being held under house arrest.
He told us he had met the intelligence chief, Abdullah al-Sanussi, just a few days ago, in Sabha, not long before the town fell.
And Mr Madani said he believed Col Gaddafi was probably in the desert somewhere, and would never give up.
"He said he would choose death or victory," Mr Madani says, "For the time being victory is very difficult, death is more probable."
Mercenaries or workers?
Not far away, the NTC fighters wanted to show us a small group of Nigerian men they were holding in a pick up truck.
The fighters were convinced the Nigerians were mercenaries.
"You work with Gaddafi, man," one fighter said accusingly to them. "No, no" said the Nigerians.
"He give you money to work with him," the fighter said. "I don't have money," one of the Nigerians replied.
The Nigerians insisted they were migrants looking for jobs, who had been terrified by the fighting in Libya and had to hide, starving hungry while the rebels advanced on Sabha.
One of the ICC's charges against Col Gaddafi and Abdullah al-Sanussi is that they brought in African mercenaries to kill unarmed protesters.
The NTC fighters claim Mr Madani helped recruit mercenaries - a charge he denies.
"I never dealt with the issue, never in my life. It is not in my conviction, it is not in my ethics," he said.
Back in Ubari the fighters said they would pause for now, before moving on to secure the border with Algeria.
They are still concerned Ubari could be recaptured by Gaddafi loyalists.
But they will not give up their hunt for the former dictator, even if it feels like they are chasing a mirage across the desert.