Libya fighting: Fears grow for civilians in Sirte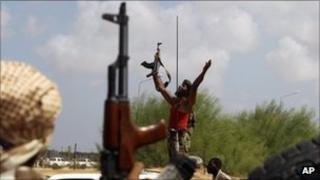 International officials have expressed fears for more than 200,000 civilians caught in fierce clashes in the Libyan cities of Sirte and Bani Walid.
Nato said fighters loyal to Col Muammar Gaddafi were hiding in civilian areas, putting the population in great danger.
Spokesman Col Roland Lavoie said drinking water, food and medicine were running low.
Fighters from the interim authorities have intensified their assault on the two cities.
They are the last two major areas under the control of Gaddafi loyalists.
The National Transitional Council (NTC) says it is just a matter of time before the city falls.
Chaotic fighting
But Col Lavoie said the remaining Gaddafi loyalists were refusing to accept defeat, adding: "As a last resort, they are hiding in civilian areas."
Both Col Lavoie and the Red Cross warned that the conditions civilians were living in was becoming increasingly perilous.
Civilians have continued to flee from Sirte, as a lack of clean drinking water is reported to have led to the spread of water-borne diseases.
"There's no food, no electricity. We were eating just bread," Sirte resident Saraj al-Tuweish told AFP news agency as he left the city on Tuesday.
"I've been trying for 10 days to get out and every time the army forced us back. Today we used a dirt road early in the morning and we managed to escape."
Witnesses in Sirte described chaotic scenes as NTC fighters tried to advance further into the city.
They came under heavy fire from Gaddafi loyalist snipers, and TV channels backing the NTC reported that a number of their soldiers had been killed in the clashes.
It is thought Col Gaddafi is still in Libya - possibly in Bani Walid or Sirte.
But many of his inner circle have already fled the country.
His daughter Aisha escaped to Algeria several weeks ago, and has appeared on the Syrian-based Arrai TV channel telling the audience her father was healthy and fighting alongside his troops.
Algerian officials on Tuesday warned her to stop meddling in politics.
On Tuesday Arrai broadcast footage it said was filmed on 20 September Col Gaddafi's son Saif al-Islam rallying troops.
Saif al-Islam, once groomed as his father's successor, is still on the run and has not been seen in public for weeks.