Cyber anger at Nigeria gang rape footage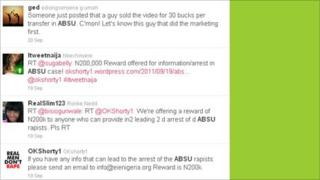 Nigeria's National Assembly has called on police to investigate the gang rape of a woman after footage of the incident was circulated on the internet.
There has been widespread anger in Nigeria, both at the attack on the woman and what has been seen as a failure of the state authorities to take the case seriously.
The 10-minute clip shows the brutal rape of a woman in what appears to be a dormitory room.
Five young men are seen laughing and joking as they take turns sexually assaulting their victim.
Exhausted, she begs for mercy - at one point even asking them to kill her.
The video, which the young men filmed, shows the victim's face closeup but avoids showing those of her attackers.
Linda Ikeji, a blogger in Lagos, was one of the first to write about the incident and helped turn it in a national issue.
Twitter reward
In an angry post, she alleged the rape had taken place on 16 August and been perpetrated by students at Abia State University in south-eastern Nigeria.
The video, she said, had been circulated on the phones of students at the campus before being uploaded online last week.
Over the next few days, in part thanks to Ms Ikeji, the video went viral, trended on Twitter, and anger in the online community grew.
It was fuelled by announcements from the state governor, the vice-chancellor of the university and the head of police in Abia, all saying they had conducted their own investigations and were sure that the rape had not taken place in their state.
With no victim coming forward, they said they regarded the case as closed.
They reckoned without the growing power of Nigeria's cyber community, whose members scrutinised the video for clues.
One Twitter user offered a reward of 200,000 naira ($1,250, £830) for information leading to the rapists' arrest.
"We discovered names because there was a conversation between the men as they were raping," Ms Ikeji says.
"So we have the names and the girl's face but for now but we still don't know who they are."
Wary of the damage to the state and the university's reputation, officials in Abia refused to back down.
The governor's wife issued a statement saying she was sure that there had been "no such inglorious act and ugly incident" at Abia State University.
Police maintained that with no victim there could be no investigation.
Stigma
"The Abia state government were too quick to try and disassociate [themselves] from it," Josephine Effah-Chukwuma from women's rights group Project Alert said.
"The faces of the men were covered, so how could the vice-chancellor of the university say within 36 hours that it 'didn't happen on my campus' and 'they are not my students'."
Ms Effah-Chukwuma said she had sent people to Abia to try and find the woman but that it was a race against time as she said government and university officials would also be trying to find her to "quiet" her.
Only a small fraction of Nigeria's rapes are reported, she said, due to stigma associated with attacks and the unhelpful attitude of a police force widely seen as corrupt and inefficient.
"We are trying to find out where this young girl is and get to her and isolate her as soon as possible to protect her," she said.
"Because I can tell you that even with her family she's being blamed, they're asking her: 'What did you do to get raped?'"
At a national level there has been a more sophisticated response.
Minister for Youth Development Mallam Bolaji Abdullahi called the rape despicable and announced that he would be going on a fact-finding mission to Abia state next week.
That was followed by the National Assembly passing a series of resolutions asking the head of police to start a rape investigation even without the victim.
The resolutions are not binding but with online activists now publishing names and even photos of possible suspects - the pressure is on Nigeria's police service to start making progress.