South Africa 'foils murder plot' on Rwanda's Nyamwasa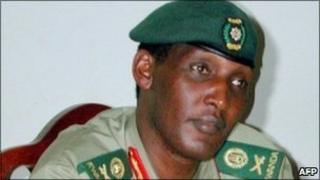 South Africa's authorities have foiled another assassination attempt on Rwanda's ex-army chief, Faustin Kayumba Nyamwasa, the BBC has learnt.
The general fled to Johannesburg last year after falling out with his former ally, Rwandan President Paul Kagame.
A few months later he was shot in Johannesburg. Rwanda denied it was behind the attack, which he survived.
Sources close to Gen Nyamwasa confirmed the new plot. But South Africa's police said it had no record of such plans.
The sources told the BBC that Gen Nyamwasa was taken from his home in Johannesburg at short notice last month after South African intelligence uncovered the new plot.
It was believed to involve money brought into the country from Rwanda for an attack using machine guns, to wipe out everyone in the general's home.
According to Denmark-based Kinyarwanda online paper Umuvugizi, the South African authorities seized photographs, emails, guns and other materials relating to the operation.
But South African police spokesman McIntosh Polela said the force had no record of another attempt on the general's life, adding "even if we did we wouldn't tell you".
Gen Nyamwasa was shot in the stomach as he was being driven back to his home in Johannesburg in June 2010 and taken to hospital, where a second attempt on his life was foiled by South African intelligence.
Two trials of 10 men allegedly involved in the previous plots are under way in South Africa.
Rwanda has denied accusations it was involved.
Didier Rutembesa, the first counsellor of the Rwandan High Commission in South Africa, told the BBC his country has no policy of assassinating its opponents.
He called for the current allegations to be investigated by the police and the courts, rather than being taken to the media.
Earlier this year, a Rwandan military court sentenced Gen Nyamwasa to 24 years in jail for threatening state security.