Libya: NTC says key oasis towns taken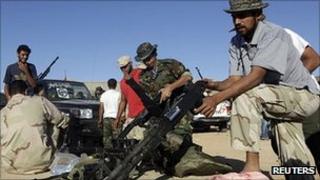 Libya's interim leadership says it has captured several key areas in the south but its forces have paused advances on two pro-Gaddafi strongholds.
Commanders said all three main towns in the al-Jufra oasis had been captured.
Officials say they aim to cut off escape routes south from Bani Walid and Col Gaddafi's hometown, Sirte, which are still offering stiff resistance.
Meanwhile, the UK's Financial Times says Libya's new leaders have found $23bn (£15bn) in the central bank.
It said the National Transitional Council had told UK officials it had found about 28bn dinars in the Central Bank of Libya unspent by Col Gaddafi - a major boost for the NTC's efforts to govern the country.
On Thursday, a military spokesman said the southern oases had been taken after fierce fighting.
"Al-Jufra - Hun, Waddan and Sokna - is liberated," he said.
"Our forces seized Waddan on Tuesday and then captured the base between Waddan and Hun at dawn on Wednesday, and took Hun during the day."
On Wednesday the NTC announced its forces had captured much of Libya's largest desert city, Sabha, also in the south.
Correspondents say the seizure of the Saharan towns mean pro-Gaddafi forces in Sirte and Bani Walid have lost their escape routes south.
The NTC says many of Col Gaddafi's die-hard supporters holed up in Sirte and Bani Walid believe they have no choice but to resist or face war-crimes charges.
Commander Mustafa bin Dardef, whose troops are on the front line 25km (15 miles) east of Sirte, told AFP news agency that ammunition was in short supply and fighting would stop for a week.
But he said troops loyal to the NTC would create a "strong defensive line" around the nearby town of Sultana, which they captured on Monday.
UK officials said British jets, as part of the Nato force tasked with protecting civilians in Libya, had targeted two "command and control facilities" in Sirte on Wednesday.
Nato said on Wednesday that the alliance was extending its Libya campaign for another 90 days.
NTC fighters have also paused outside Bani Walid following several advances over the past week that have ended in retreat.
Witnesses north of Bani Walid on Thursday said NTC forces were bringing forward tanks and Grad rocket launchers in preparation for a renewed assault. It was not clear when that would happen.
In the capital Tripoli on Thursday, the US planned to raise its flag over the US embassy first the first time since the fall of Col Gaddafi.
It comes a day after US Ambassador Gene Cretz arrived back in the country.
Libya's Interim Prime Minister Mahmoud Jibril is at the UN General Assembly meeting in New York.
He said he expected a new government to be announced within 10 days.