Oxfam warns about effects of 'land rush'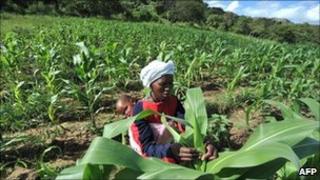 An increasing number of land deals are displacing farmers and leaving poor communities homeless, campaigning charity Oxfam has warned.
It says up to 227m hectares (560m acres) have been sold or leased worldwide since 2001.
Half of all deals that have been verified are in Africa, amounting to an area the size of Germany - 35m hectares, Oxfam says.
Vulnerable communities in Uganda and South Sudan have been affected.
The report also focuses on Honduras, Guatemala and Indonesia.
'Frenetic competition'
The organisation's Chief Executive, Barbara Stocking, said the "blinkered scramble" for land by investors was ignoring the needs of those who live on the land and depend upon it for their survival.
"Many of the world's poorest people are being left worse off by the unprecedented pace of land deals and the frenetic competition for land."
Oxfam says that among the worst affected by these so-called land grabs are women, who despite producing up to 80% of food in some poor countries, are often more vulnerable as they have weaker land rights.
"Investors, no matter how noble they pertain to be, cannot sweep aside the needs and rights of poor communities who depend on the land they profit from," she said.
The organisation said that land grabs had accelerated especially since 2008, when soaring prices highlighted the issue of food security.
It said an increasing demand for food, combined with climate change and the increase of agricultural land being used to grow biofuels, meant that the number of such deals would be likely to only rise in the future.
It called on the EU to scrap its target of obtaining 10% transport fuels from renewable sources by 2020 - which has fuelled the planting of crops for biofuels - and asked investors and governments to implement policies to ensure land deals are fair and those affected are properly consulted.