Libya war: Anti-Gaddafi troops take key Sabha positions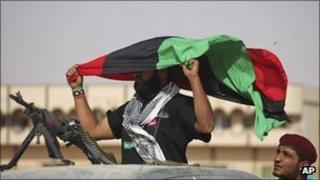 Anti-Gaddafi forces have captured two key positions close to the southern city of Sabha, says a spokesman for Libya's transitional authorities.
The city's airport and castle had been liberated, said National Transitional Council military spokesman Ahmed Bani.
Within two days the city itself - one of the remaining strongholds of Gaddafi loyalists - would be taken, he said.
But pro-Gaddafi fighters are mounting fierce resistance in Bani Walid and Col Muammar Gaddafi's birthplace, Sirte.
"Our forces are there in the airport and in the castle," Col Bani told a Tripoli news conference. "Our flags are flying there."
Sabha, a traditional stronghold of Col Gaddafi's tribe, the Qadhadfa, is the largest Libyan city in the Sahara desert, and controls the road leading south to Niger.
With roads to Tunisia, Egypt, Chad and Sudan largely controlled by anti-Gaddafi forces, Niger has been used as an exit route by members of the ousted leader's inner circle fleeing the NTC advance - including his son Saadi.
Sirte assault
The situation in Bani Walid, 140km (90 miles) south-east of the capital Tripoli, was becoming a human tragedy, said Col Bani.
He accused Gaddafi loyalists of stealing all the supplies in the town, and shooting anyone who tried to join the anti-Gaddafi forces.
He insisted the city was completely surrounded, but this could not be independently verified.
Anti-Gaddafi forces launched an offensive on the city on Thursday and again on Friday, but were forced to retreat under heavy fire both times. Heavy clashes have continued since then.
Asked why the fight was proving so difficult, Col Bani said: "Bani Walid is a city between mountains and because some of our fighters are from outside and don't know the town well, they have some difficulties."
Meanwhile, 900 armoured vehicles were involved in an assault on the Mediterranean city of Sirte over the weekend, with more reinforcements being brought in.
The NTC met in the former rebel stronghold of Benghazi over the weekend with a view to announcing a new cabinet line-up, but this has now been postponed.
Last week, NTC Chairman Mustafa Abdul Jalil appealed for weapons to help the NTC take the few areas of Libya still loyal to Col Gaddafi, telling the BBC the fugitive leader was in the country's south, plotting his revenge.
Libya's leader for four decades, Col Gaddafi has been in hiding since opposition forces captured the capital Tripoli late last month. His whereabouts remain unknown.