Libya conflict: Europe failing Libya's refugees - Amnesty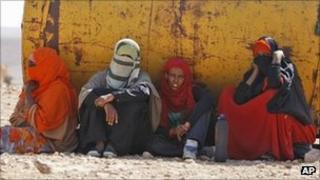 European Union countries have "shamefully failed" to help thousands of refugees stranded near Libya's borders, Amnesty International says.
It says they have failed to resettle some 5,000 mainly sub-Saharan Africans who face persecution in their nations.
Amnesty says the EU - some of whose member states have taken part in Nato's operations in Libya - must "urgently address the resettlement issue".
Britain rejected the criticism, while other EU nations have made no comment.
Fighting is still continuing in Libya, with forces loyal to the country's interim leaders now controlling most of the country.
The troops have been advancing towards the coastal town of Sirte, Col Muammar Gaddafi's birthplace and a stronghold of his loyalists.
'Driven by desperation'
In its report - Europe, Now It Is Your Turn to Act - Amnesty strongly criticises EU governments over their failure to act on the refugee issue.
"We have witnessed an abysmal response to the plight of displaced refugees on Europe's doorstep," said Nicolas Beger, director of Amnesty's European Institutions Office.
"This failure is particularly glaring given that some European countries, by participating in Nato operations in Libya, have been party to the very conflict that has been one of the main causes of the involuntary movement of people."
The human rights group says that about 1,000 people are still stranded in Egypt's Saloum camp and another 3,800 people in Tunisia's Choucha camp.
The refugees are living in "harsh conditions", it says, and cannot go back to their home countries because they face "a real risk of persecution".
"Neither is returning to Libya - a country currently unable to offer adequate protection to refugees - an option," the reports adds.
It says that "driven by desperation, more and more refugees are resorting to returning to Libya to try to board boats for Europe on a perilous sea journey which is believed to have claimed more than 1,500 lives" since the start of the conflict in Libya.
Amnesty says that so far only Norway and seven nations of the 27-member EU - Belgium, Denmark, Finland, the Netherlands, Ireland, Portugal and Sweden - have offered to help.
But those nations offered "fewer than 700 slots", the report adds.
In response, a British government spokesperson told the BBC that London "was one of the first to provide vital humanitarian support to those affected by the conflict in Libya".
"Our early action in providing emergency shelter supplies and flying people home from the border camps helped prevent a logistical problem from developing into a humanitarian crisis. We have repatriated over 12,700 third country nationals from the border camps, and also provided tents and blankets for emergency shelter."
However, the spokesperson added: "We are under no international obligation to bring asylum seekers or refugees to the UK from Libya and do not believe it would be desirable to do so.
"In our view humanitarian and refugee issues are best dealt with in the region of origin, or by asylum seekers claiming protection in the first safe country they reach."