Libya conflict: Anti-Gaddafi troops move towards Sirte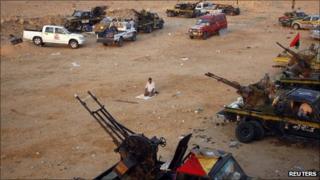 Troops loyal to Libya's interim leaders have been advancing towards the coastal town of Sirte, Col Gaddafi's birthplace and a stronghold of his loyalists.
A BBC correspondent says they are at the eastern gates, and the offensive is gaining energy and momentum.
But pro-Gaddafi fighters in Bani Walid launched fresh attacks, forcing a retreat under heavy fire.
Meanwhile the interim National Transitional Council said the creation of a new cabinet had been postponed.
The number two in the council, Mahmoud Jibril, said last-minute haggling had "indefinitely" delayed the decision, AFP news agency said.
Nato action
Nine hundred armoured vehicles are involved in the anti-Gaddafi assault on Sirte, with more reinforcements being brought in.
The BBC's Alastair Leithead in nearby Harawa, whose recent capture the forces are celebrating, says large field guns were towed past the town mosque on the way to the front line.
There were reports of heavy fighting around the eastern gate of Sirte, with pro-Gaddafi fighters using snipers and rocket fire.
Our correspondent reports seeing five injured with gunshot and shrapnel wounds and one dead.
It seems they were lured into an ambush but the pro-Gaddafi snipers left behind as bait had been caught, he says.
"The situation is very dangerous. There are so many snipers and all the types of weapons you can imagine," fighter Mohamed Abdullah told Reuters news agency.
Nato has also been involved in the fighting, with British patrols destroying an armoured personnel carrier and two pick-up trucks, according to the UK Ministry of Defence.
Earlier, RAF tornadoes bombed an ammunition facility just west of the city.
'Big fight'
Anti-Gaddafi forces had tried to take Bani Walid, 140km (90 miles) south-east of the capital Tripoli, on Friday but were forced to retreat.
Heavy clashes have continued since then.
Reports from Bani Walid say explosions and sustained machine-gun fire were heard on Sunday morning when pro-Gaddafi forces shelled enemy positions on the outskirts of the town.
Mortars targeted a building housing anti-Gaddafi troops, along with the town's northern entrance.
One anti-Gaddafi commander, Absalim Gnuna, told Reuters news agency: "We fought all night. We have surrounded the city from all sides with the range of 40km.
"Most areas north of the central valley are clear. It is a big fight."
Mr Gnuna said he also had orders to try to help families trapped in the town to escape.
Fighters from nearby Tajoura are reported to have arrived to reinforce the anti-Gaddafi units.
Col Gaddafi has been in hiding since opposition forces captured the capital Tripoli in August.
Meanwhile the National Transitional Council is meeting in Benghazi to hammer out a new cabinet.
It had hoped to announce a new line-up on Sunday but this may be delayed by haggling over posts, an NTC official told AFP.