Libya unrest: US envoy Feltman 'encouraged by command'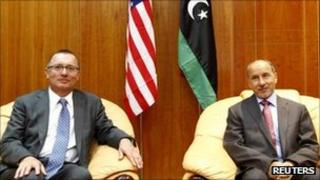 Washington is encouraged by the increasing control Libya's interim rulers are exercising over security forces in Libya, says a senior envoy.
The US would reopen its embassy in the capital as soon as possible, said envoy Jeffrey Feltman after talks with anti-Gaddafi leaders in Tripoli.
He pledged US support for the National Transitional Council, whose fighters ousted Col Muammar Gaddafi.
The whereabouts of the fugitive leader remain unknown.
He has said he will die rather than flee Libya, although at least 36 of his inner circle, including family members and generals, have fled to neighbouring Algeria and Niger since Tripoli fell to NTC forces earlier this month.
Last remnants
"We remain encouraged by growing command and control over security and police forces," said Mr Feltman, the assistant secretary of state for Near Eastern affairs. "We understand that this is a difficult task.
"Libya's interim leadership is solidifying the steps and integrating militias under one civilian authority."
He was speaking after talks with the head of the National Transitional Council, Mustafa Abdul Jalil.
The US was committed to continuing military operations with Nato as long as they were needed to protect Libyan civilians, added Mr Feltman.
With roads to Tunisia, Egypt, Chad and Sudan largely controlled by rebel forces, Niger has been used as an exit route by Gaddafi loyalists - including his son Saadi
Niger has recognised the NTC's authority, but said it had not yet decided whether it would allow Col Gaddafi to enter the country.
The last remnants of Col Gaddafi's forces still control Sirte on the Mediterranean coast, Sabha in the southern desert and Bani Walid south-east of the capital Tripoli.
Rebel forces say they have captured the northern half of Bani Walid but have struggled to push further.