Libya unrest: Saadi Gaddafi 'in capital of Niger'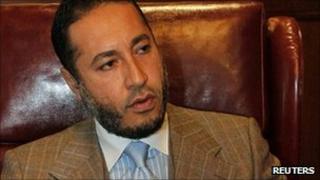 Niger says that Saadi Gaddafi, one of the sons of fugitive Libyan leader Col Muammar Gaddafi, has arrived in the capital, Niamey.
Saadi Gaddafi crossed the border from Libya over the weekend and was granted refuge, officials in Niger confirmed.
The US State Department has said he is under "essentially a house arrest", although Niger has not confirmed this.
The whereabouts of Col Gaddafi remain unknown. He has said he will die rather than flee Libya.
Saadi Gaddafi is reported to have been flown to Niamey on a military transport plane from the northern town of Agadez.
A source in Niger told AFP news agency that he was in the "safe custody" of Niger security forces in Niamey.
The source said he had previously been staying at a residence of the governor of Agadez.
So far 32 members of Col Gaddafi's inner circle - including three generals - have entered Niger this month.
Reports say the generals have applied for political asylum but it is not clear if Saadi Gaddafi has done so too.
Niger Justice Minister Marou Amadou would not say whether the Gaddafi loyalists would be granted political asylum, but suggested that returning them to Libya was not an option, the Associated Press news agency reported.
"These people have been received on humanitarian grounds. We didn't ask them to come here, and if they are here it is for humanitarian reasons. It is my opinion that you can't chase away someone that is fleeing a war," he said.
US State Department spokeswoman Victoria Nuland said on Tuesday that authorities in Niger were working with Libya's National Transitional Council (NTC).
"Our understanding is, like the others, he (Saadi Gaddafi) is being detained in a state guest house," she said.
"It is essentially a house arrest in this government facility, is our understanding."
Exits limited
Niger has recognised the NTC's authority, but said it had not yet decided whether it would allow Col Gaddafi to enter the country.
Saadi Gaddafi is a former footballer who had a very brief career in Italy. Since retiring from football he has become involved in the film industry.
Col Gaddafi's wife, daughter and two of his sons crossed into Algeria late last month, prompting the country to close its border.
With roads to Tunisia, Egypt, Chad and Sudan largely controlled by rebel forces, Niger has been used as an exit route by Gaddafi loyalists.
The last remnants of Col Gaddafi's forces still control Sirte on the Mediterranean coast, Sabha in the southern desert and Bani Walid south-east of the capital Tripoli.
Rebel forces say they have captured the northern half of Bani Walid but have struggled to push further.