Niger: Mixed emotions over Gaddafi fugitives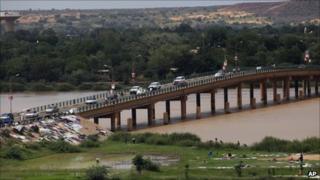 At the entry point to Niger's capital, Niamey, about 15km (nine miles) from the city centre where convoys carrying fleeing Gaddafi loyalists have recently passed, it seems to be business as usual.
A few police officers are on duty at the checkpoint that opens the way to the long road leading to Agadez, hundreds of kilometres northwards, and then on to the Libyan border.
"Several cars escorted by our military passed through here late in the night last week," says Hamza Toudou, who sells aubergines and onions on the side of the road.
At least three top commanders loyal to Col Muammar Gaddafi have made it to Niger in the past 10 days.
One of his own sons, Saadi, has also joined the growing group of officials from Libya's deposed government who are being hosted on "humanitarian grounds" by Niger's government.
The fleeing Libyans are believed to have been travelling with Tuareg fighters from Niger.
They were allegedly hired as mercenaries by Col Gaddafi in his battle with supporters of the National Transitional Council which now controls most of Libya.
"We hear on the radio that the Libyans are here but we have not seen them so we don't know exactly who they are," says Mr Toudou.
Next to him stands Mukaila, who runs after buses stopping at the road block to sell plastic bags of water to passengers.
He says Niger has "no choice but to host them because they are Muslims".
"Islam says one cannot deliver a Muslim brother to their enemies," he says.
"But we fear that weapons might enter our country along with former Tuareg rebels," he adds.
Tuareg communities in the Sahel region just south of the Sahara Desert have had a close relationship with Col Gaddafi.
He helped resolve various rebellions led by Tuaregs over the years - most recently one in the north of Niger where they were demanding a greater share of profits from the region's uranium mining.
Silver worries
But people in the capital express mixed feelings about the arrival of the Gaddafi loyalists.
This reflects the awkward position that the government of Niger faces at present.
The country, surrounded by the Sahara Desert, is one of the world's poorest - and the UN has just warned of a potential new food crisis.
But its ties with Libya are not just tribal.
Over the years, Col Gaddafi has donated and invested large sums of Libya's oil money in Niger's agriculture and tourism industry.
With such strong bonds to its northern neighbour, Niger's government took its time to recognise the National Transitional Council (NTC) as the new Libyan authority - only doing so in late August.
However, the imposing Libyan embassy in Niamey is now home to a representative of the NTC.
Nearby is the "Chateau 1" neighbourhood in central Niamey, famous for handmade Tuareg necklaces and rings.
A trader proudly shows me a vintage picture pinned on the wall of his shop featuring the former Libyan leader standing at a conference next to Malian President Amani Toumani Toure.
"Gaddafi is our brother," says Mahamadou, who sells silver jewellery.
"He can come here, no problem. He can even come and stay at mine; I will make space for him," he says.
But the other shopkeepers in the same street in Chateau 1 are more preoccupied about the high price of silver than the regional power games.
They say they are going through a hard time because the price of silver has doubled since 2008 and they are barely selling anything.
Meanwhile, Niger's government has said it will comply with its obligations as a signatory of the International Criminal Court if Col Gaddafi or any of his loyalists tagged with an arrest warrant crossed into the country.
But so far officials have not said whether that means they would be arrested.
Most likely, they are hoping that none of the indicted Libyans show up here so they never have to answer this question.