Darfur rebel leader Khalil Ibrahim flees Libya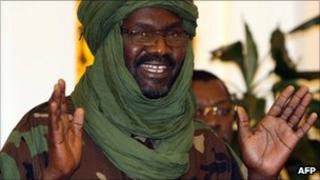 The leader of Darfur's main Justice and Equality Movement (Jem) rebel group, Khalil Ibrahim, has returned from exile in Libya.
Mr Ibrahim fled Libya after Col Muammar Gaddafi's government - which gave him refuge last year - was ousted.
Sudan had accused Mr Ibrahim's forces of fighting for Col Gaddafi in his attempt to hold on to power.
Mr Ibrahim said he had evaded attempts by Sudanese intelligence to capture him in Libya, reports say.
He told the Paris-based Sudan Tribune newspaper that he had arrived safely in Darfur after his troops secured the route across the desert.
"We were in a race with the Sudanese intelligence who were seeking to catch us in Libya," he told the newspaper.
Genocide charges
A diplomatic source told the BBC that some of Mr Khalil's men had been killed in the Libyan conflict, where they backed Col Gaddafi's forces.
About 300,000 people have died in the conflict in Darfur since it began in 2003, the UN says.
The International Criminal Court has issued an arrest warrant for Sudan's President Omar al-Bashir and other officials, accusing them of genocide and crimes against humanity in Darfur - charges they strongly deny.
Jem - the biggest rebel group in Darfur - signed a ceasefire with the Sudanese government in February 2010 but abandoned peace talks soon after, accusing Khartoum's forces of launching new raids in Darfur.
Col Gaddafi's fall in Tripoli is a blow to the rebels as he gave them sanctuary and financial and military aid, analysts say.
Mr Ibrahim was exiled in Libya since May 2010 after Chad - said to be another major backers of the rebels - refused to give him refuge following a peace deal with the Sudanese government.
Sudan had repeatedly asked Col Gaddafi's government to expel Mr Khalil, but it refused.