Kampala World Cup attack: Uganda frees Al-Amin Kimathi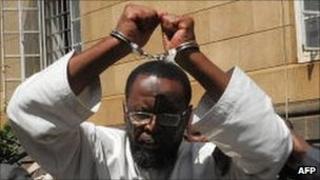 A Ugandan court has freed five suspects in the 2010 Kampala World Cup bombing, including a Kenyan rights activist.
Al-Amin Kimathi was detained last year after going to Uganda to advise people he said had been illegally extradited.
Charges were dropped against him, another Kenyan, a Somali and two Ugandans because of a lack of evidence but 14 others remain in custody.
Al-Shabab said it carried out the bombings which killed 76 people because Uganda had sent troops to Somalia.
Before his arrest in September 2010, Mr Kimathi, the head of the Muslim Human Rights Forum, had accused Kenya and Uganda of illegal rendition - arresting suspects in Kenya and sending them to Uganda without due process.
The BBC's Joshua Mmali says Mr Kimathi looked frail and did not comment immediately.
Our correspondent says the High Court was cordoned off by hundreds of anti-terror police and regular officers, with roads around court closed to traffic.
Only a limited number of journalists were allowed inside the courtroom, with police requiring them to have submitted their names in advance.
'Vindicated'
When the pre-trial hearing opened in Kampala, the prosecution said it was dropping the charges against Mr Kimathi and the four others.
His family and lawyers welcomed his release but condemned his year-long detention.
"I can only say that we're very relieved, and Al-Amin has been vindicated," said his brother, Onesmus Mureithi Imanene.
Mr Kimathi's London-based lawyer, Ben Cooper, said his client had been the victim of a "serious injustice" and he would consider whether to sue for wrongful arrest.
"He came to stand up for the rule of law, for those who became his co-accused, only to find himself charged with the most serious allegations which simply could not stand up."
Mr Kimathi was also arrested in 2010, following riots in the Kenyan capital, Nairobi.
The 14 suspects still in custody are due to enter their pleas shortly.
Uganda and Burundi are the only countries to have sent troops to Somalia to help the UN-backed government in its fight against the al-Qaeda-linked al-Shabab.
Al-Shabab said this was why it carried out the twin suicide attack on a Kampala bar and restaurant, where people were watching the World Cup final on TV.