Libya conflict: Gaddafi's son Saadi 'arrives in Niger'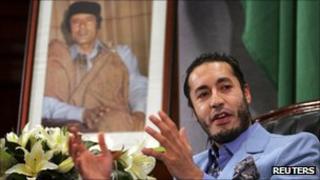 One of the sons of the fugitive Libyan leader, Col Muammar Gaddafi, has arrived in neighbouring Niger.
Niger's justice minister said Saadi Gaddafi had been in a convoy which was heading towards the capital, Niamey.
Col Gaddafi's whereabouts are unknown. He has said he will die in Libya.
Anti-Gaddafi troops now control most of Libya, including the capital Tripoli. They have been trying to seize several cities controlled by loyalists, including Bani Walid and Sirte.
On Sunday, rebel forces resumed their attack on Bani Walid, supported by Nato air strikes. Officials say their forces are now within reach of the centre of the town.
Some of Col Gaddafi's family have fled to Algeria. Several convoys of former Gaddafi loyalists are also said to have streamed over Libya's southern border with Niger recently.
'Humanitarian ground'
Niger's government spokesman and Justice Minister Marou Amadou said Saadi Gaddafi was in a convoy along with eight others. Mr Amadou said the convoy was on its way to Agadez in northern Niger and that Saadi and his companions were being allowed in on humanitarian grounds.
The Niger government has recognised the NTC's authority, but said it had not yet decided whether it would allow Col Gaddafi to enter the country.
The US has urged Niger to detain any individuals who may be sought for prosecution by the new authorities in Tripoli and confiscate their weapons and money.
At the beginning of September, Saadi Gaddafi reportedly made contact with the interim authorities, offering to negotiate an end to fighting in Libya. Nothing came of the offer.
Saadi Gaddafi is a former footballer who had a very brief career in Italy, and he ran the Libyan Football Federation after being national team captain. Since retiring from football, he has become involved in the film industry, apparently investing $100m (£60m) in a film fund.
New government
In a separate development, Mahmoud Jibril, the head of cabinet on the National Transitional Council, said on Sunday that an interim government will be formed within 10 days.
He also announced that Libya had resumed producing oil, saying more would be on stream in the near future.
On Saturday, Mustafa Abdul Jalil, the chairman of the NTC, was greeted by hundreds of cheering, flag-waving supporters when he arrived in the capital for the first time since rebels took over the city.
Until now he had remained in the eastern city of Benghazi. His presence in the capital is aimed at sending a message about his authority.
Correspondents say he now faces big challenges as he tries to stabilise the country and form an effective national administration.
Also on Sunday, the spokesman for the military council in Tripoli, Anes Sharif, told the Associated Press that Colonel Gaddafi's head of foreign intelligence, Abuzeid Dorda, had been arrested in the city.
A long-time associate of the former Libya leader, Mr Dorda served as prime minister in the 1990s, was Libyan ambassador at the UN until 2003 and toolk over from Moussa Koussa as head of intelligence in 2009.