Zanzibar mourns ferry disaster victims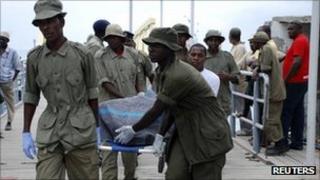 The Tanzanian region of Zanzibar has begun three days of mourning for the victims of a ferry sinking that killed nearly 200 people.
The boat was carrying about 800 people when it capsized between Zanzibar's main islands of Unguja and Pemba.
Survivors said it was dangerously overloaded with passengers and cargo and was listing when it left port.
The government of the semi-autonomous region has ordered an investigation into what caused the disaster.
It is thought the boat capsized after losing engine power in the swift currents between the two Indian Ocean islands.
The accident happened early on Saturday and by nightfall about 600 survivors had been rescued.
'Ladder removed'
Friends and relatives have been identifying the dead, which have been taken to a football ground in Unguja.
The bodies, placed in separate rows of men and women, have been wrapped in black blankets with their clothes placed next to them to help relatives find them.
Rescue workers said the death toll could rise because more bodies were trapped in the capsized vessel, the MV Spice Islander.
The boat, licensed to carry 600 people, began its voyage in Tanzania's largest city, Dar es Salaam.
It took on more passengers and cargo in Unguja before it left for Pemba.
Fearing the boat was overloaded, some passengers disembarked before it left port.
"A few of the passengers managed to get off the ship after noticing that it was tilting," said Aze Faki Chande, who Reuters news agency said lost her two children and sister.
"We also tried to disembark, but the ship's crew quickly removed the ladder and started sailing towards Pemba," she said.
The BBC's East Africa correspondent Will Ross, in Nairobi, says carrying too many passengers or too much cargo is a common cause of accidents whether on sea or on land in many parts of Africa.
Survivors have described the moment the vessel foundered.
"I realised something strange on the movement of the ship. It was like zigzag or dizziness," Associated Press quoted 15-year-old Yahya Hussein as saying.
"After I noticed that I jumped to the rear side of ship and few minutes later the ship went lopsided."
He said he survived by clinging to a plank of wood with several others.
Many children were said to be among the boat's passengers.