Jos fighting: Nigeria gunmen kill father and children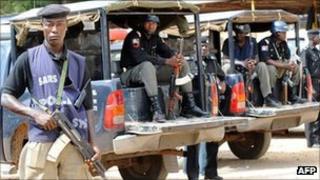 Nine people, including seven children, have been killed in the latest violence in central Nigeria's Plateau state.
Gunmen attacked a home in a village outside the state capital, Jos, killing the children, their father and a neighbour, an official said.
More than 100 people have been killed in the past two weeks in the state in conflict between Muslims and Christians from rival ethnic groups.
The conflict has continued despite a strong security force presence.
Nigeria has a long history of religious and ethnic conflict.
Midnight attack
In Plateau, Hausa-speaking Muslims are seen as supporters of the opposition, while ethnic Beroms, who are mostly Christian, are perceived to favour the ruling People's Democratic Party (PDP).
The BBC's Jonah Fisher in the capital, Abuja, says the latest killings took place in a mainly Christian village, Barkin Ladi, at midnight on Thursday.
A spokesman for the state governor said a father and seven of his children were shot dead, along with a neighbour.
After a few days of relative calm these killings mark another upsurge in nearly two weeks of reprisal attacks between Muslim and Christian groups, our reporter says.
He says the military has been struggling to restore order in the state.
Last week, Jos's Catholic Archbishop Ignatius Kaigama and Muslim leader Sheikh Sani Yahaya Jingir appealed for an end to the violence.