Libya conflict: Gaddafi general 'flees to Niger'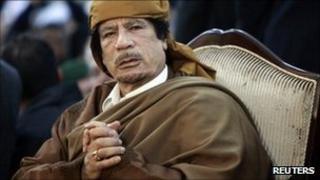 A senior general in Libyan ex-leader Col Muammar Gaddafi's forces has fled to Niger, according to local sources.
Officials in the Niger town of Agadez named the commander as General Ali Kana, a Tuareg in charge of Col Gaddafi's southern troops.
Interpol has issued an arrest warrant for Col Gaddafi, his son Saif al-Islam and spy chief Abdullah al-Sanussi, whose whereabouts are still unknown.
Gaddafi loyalists still fighting face an ultimatum to surrender on Saturday.
The National Transitional Council (NTC) has been trying to negotiate a peaceful resolution to stand-offs in a handful of areas - including Bani Walid, Jufra, Sabha and Col Gaddafi's birthplace of Sirte.
NTC forces last week warned loyalists that they must surrender by Saturday, or face a military onslaught.
The BBC's Richard Galpin, in the Bani Walid region, says there have been further clashes there ahead of the Saturday deadline, with Grad rockets being fired by pro-Gaddafi forces holding out in the town. There are also reports of clashes near Sirte.
Tuareg ties
Col Gaddafi has said he will not leave Libya - and has urged his supporters to fight.
But in recent days several convoys of formerly loyal fighters have streamed over the border with Niger.
A number of Col Gaddafi's aides - including his chief of security Mansour Daw - have already reached the capital, Niamey.
Officials in Agadez said the latest convoy consisted of at least three vehicles carrying a dozen people - among them at least two senior generals and four top officials.
Reuters news agency reported that they were accompanied by security forces from Niger.
Sources in Agadez have told the BBC that the convoy members have checked into a hotel built by Col Gaddafi.
The central government has not yet commented on the latest claims.
Col Gaddafi helped to fund rebellions by nomadic Tuareg fighters against the governments of Mali and Niger during the 1970s and 80s.
Many of the rebels went on to serve in Gaddafi's armies.
Officials in Niger, which recently installed democracy after decades of authoritarianism, said they were letting in many sub-Saharan Africans from Libya on humanitarian grounds.
The Niger government has recognised the NTC's authority, but said it had not yet decided whether it would allow Col Gaddafi to enter the country.
One source from Niger's Tuareg community told Agence France-Presse that a convoy of Gaddafi loyalists that left Libya about three weeks ago and said to include "generals and senior officials", had now moved from Niger to neighbouring Burkina Faso. The report cannot be independently confirmed.
In a phone message broadcast on Syria's al-Rai TV late on Wednesday, Col Gaddafi was forced to deny persistent rumours that he had already fled over the border.
He dismissed the claims as lies and psychological warfare and insisted he would still be able to defeat his opponents.
In addition to rocket fire near Bani Walid on Friday, exchanges of rockets were reported about 60km (40 miles) east of Sirte in the Red Valley region the NTC announced it had captured on Thursday.
Nato said on Friday it had successfully launched an air strike on a warehouse holding two pro-Gaddafi Scud missiles near Bani Walid.
It also carried out a long-range mission on Thursday that fired Storm Shadow missiles at a military vehicle depot near Sabha.
The Interpol arrest warrant for the colonel, Saif al-Islam and Mr Sanussi adds to an International Criminal Court (ICC) warrant for crimes against humanity issued for the three men earlier in the conflict.
The police agency said in a statement the new warrant "would significantly restrict the ability of all three men to cross international borders".
Separately, the Dutch government said it had now received permission from the UN sanctions authorities to unfreeze $2bn (1.4bn euros; £1.25bn) in Libyan assets.
It is the latest in a series of steps to free up seized assets and send money to the NTC.