Sudan, South Sudan to pull out troops from Abyei - UN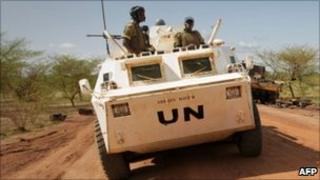 Sudan and newly independent South Sudan have agreed to withdraw their troops from the disputed town of Abyei by the end of the month, the UN says.
The deputy head of UN peacekeeping, Edmond Mulet, says the deal was brokered by the African Union at talks in Ethiopia's capital Addis Ababa.
The move is expected to ease border tensions between Khartoum and Juba, which both claim Abyei.
A referendum planned in Abyei on its future status was never held.
"They [Sudan and South Sudan] have agreed that between 11 September and 30 September there is going to be a redeployment or withdrawal of the troops," Mr Mulet told reporters on Thursday.
He added that Khartoum had originally said it would only pull out its troops when an administration was in place in Abyei, but had now dropped that condition.
Mr Mulet was speaking after briefing the UN Security Council in New York on the issue.
Northern forces occupied Abyei in May, raising fears of a renewal of Sudan's 21-year north-south conflict.
After the offensive, more than 100,000 people fled the territory, mainly to South Sudan, which gained independence on 9 July.
A UN peacekeeping force of more than 1,700 Ethiopian soldiers has been deployed in Abyei since last month.
Both Sudan and the South are reliant on their oil revenues, which account for 98% of South Sudan's budget. But the two countries cannot agree how to divide the oil wealth of the former united state. Some 75% of the oil lies in the South but all the pipelines run north. It is feared that disputes over oil could lead the two neighbours to return to war.
Although they were united for many years, the two Sudans were always very different. The great divide is visible even from space, as this Nasa satellite image shows. The northern states are a blanket of desert, broken only by the fertile Nile corridor. South Sudan is covered by green swathes of grassland, swamps and tropical forest.
Sudan's arid north is mainly home to Arabic-speaking Muslims. But in South Sudan there is no dominant culture. The Dinkas and the Nuers are the largest of more than 200 ethnic groups, each with its own languages and traditional beliefs, alongside Christianity and Islam.
The health inequalities in Sudan are illustrated by infant mortality rates. In South Sudan, one in 10 children die before their first birthday. Whereas in the more developed northern states, such as Gezira and White Nile, half of those children would be expected to survive.
The gulf in water resources between north and south is stark. In Khartoum, River Nile, and Gezira states, two-thirds of people have access to piped drinking water and pit latrines. In the south, boreholes and unprotected wells are the main drinking sources. More than 80% of southerners have no toilet facilities whatsoever.
Throughout the two Sudans, access to primary school education is strongly linked to household earnings. In the poorest parts of the south, less than 1% of children finish primary school. Whereas in the wealthier north, up to 50% of children complete primary level education.
Conflict and poverty are the main causes of food insecurity in both countries. In Sudan, many of the residents of war-affected Darfur and the border states of Blue Nile and South Kordofan, depend on food aid. The UN said about 2.8m people in South Sudan would require food aid in 2013. The northern states tend to be wealthier, more urbanised and less reliant on agriculture.