Malawi's President Mutharika criticised over cabinet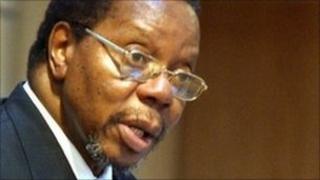 Malawi's opposition has criticised President Bingu wa Mutharika for appointing his wife to the cabinet and moving his brother to a new post.
On Wednesday, Mr Mutharika appointed his wife, Callista, as the minister in charge of HIV/Aids and women's affairs.
He also shifted his brother, Peter, from the education to the more senior foreign affairs portfolio.
The reshuffle comes after 19 people were killed in anti-government protests in July.
The protest organisers had given Mr Mutharika a deadline of 21 September to introduce reforms.
The leader of the opposition Malawi Congress Party (MCP), John Tembo, said he was concerned about the appointment of Mrs Mutharika and Peter Mutharika to the cabinet.
"The president still needs to justify why his wife and his brother are in the cabinet before we start accusing him of nepotism," Mr Tembo said.
"He has maintained a lot of ministers from his home region which is also wrong."
'Heir apparent'
Leading civil rights activist, Udule Mwakasungula, told the BBC that Mr Mutharika had given his wife a bigger job in the government despite anger over her previous role, when she drew a salary for doing charity work.
"We'd like to see the contract of the First Lady withdrawn," he told the BBC's Network Africa programme.
Analysts say Peter Mutharika's appointment is the latest sign that the president is grooming him as his successor.
The post would give him an opportunity to gain international exposure as Malawi tried to rebuild relations with donors, they say.
Earlier this year, the UK cut aid to Mr Mutharika's government, accusing it of corruption and mishandling the economy.
Mr Mwakasungula said he was "shocked and surprised" that Mr Mutharika had dismissed Vice-President Joyce Banda and had kept the post vacant.
"The vice-president office is a constitutional office. This is creating a constitutional crisis," he said.
Ms Banda had criticised the security forces for opening fire on protesters.
The protests were triggered by what the opposition described as the worst economic crisis to hit Malawi since independence, as the country faced acute shortages of fuel, electricity and foreign currency.
Last month, the government was forced to devalue the local currency, the kwacha, against the US dollar.
Malawi is one of the poorest countries in the world, with an estimated 75% of the population living on less than $1 (60p) a day.