Libya conflict: Gaddafi denies fleeing to Niger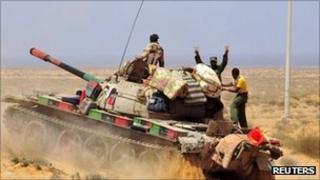 Libya's fugitive leader Muammar Gaddafi has dismissed as lies and psychological warfare the speculation that he has fled south to neighbouring Niger.
He was speaking by phone to a pro-Gaddafi TV channel in Syria, apparently from inside Libya.
Earlier, Niger said it was considering what to do if he sought refuge there.
Officials say the central bank sold 29 tonnes of gold, netting 1.7bn Libyan dinars ($1.4bn; £875m), while it was still under Col Gaddafi's control.
The reserves were sold to local merchants in April or May, and the money used to cover salaries, said officials from the interim authorities, the National Transitional Council (NTC).
The sales represented about 20% of Libya's gold reserves, interim bank governor Qassim Azzuz told reporters in the capital Tripoli.
None of the bank's assets were "missing or were stolen" during the six-month uprising which overthrew Col Gaddafi, Mr Azzuz said, but his figures did not include assets held privately by the Gaddafi family.
The NTC says eyewitnesses in Niger reported seeing some gold and money in armed convoys which crossed the Libyan border a few days ago.
"If that happened, we want that money back," NTC official Fathi Badja said, as quoted by the AFP news agency.
Niger would decide later whether to accept Col Gaddafi or hand him to the International Criminal Court (ICC), the country's foreign minister told the BBC.
There has been speculation that Col Gaddafi may go to Niger after groups of loyalists fled there in recent days.
Libya's transitional authorities have asked Niger not to take him in.
Niger recognises the ICC, which is seeking the arrest of Col Gaddafi, his son Saif al-Islam, and his former intelligence chief Abdullah Sanussi.
'No means'
Col Gaddafi told the Al-Rai channel, which is based in the Syrian capital Damascus, that there was nothing unusual about convoys going to Niger.
However, in a BBC interview on Wednesday, Niger's Foreign Minister Mohamed Bazoum admitted that officials from his government were among those people who had recently crossed into Niger in at least three convoys, but he said that neither Col Gaddafi nor any of his sons were currently in his country.
Regarding the recent Libyan refugees, Mr Bazoum said: "We told them that we can accept them to stay for humanitarian reasons, but they have to respect what the international law allows them to do or not allow them to do."
The foreign minister also stressed that Niger simply had "no means to close the border" with Libya, describing it as "too big".
Niger has belatedly recognised Libya's interim authorities, the NTC, the BBC's Mark Doyle in Niamey says.
But the government in the capital Niamey clearly feels it cannot just abandon Col Gaddafi completely, a man with whom it has had a long relationship, our correspondent adds.
Border 'too big'
Officials in Niger have said Col Gaddafi's security chief, Mansour Daw, was among those who entered the country in the convoys over the weekend or on Monday.
Mr Bazoum added that those who had arrived from Libya - of whom there were fewer than 20 - were free to stay in Niamey, or to continue to Burkina Faso.
Burkina Faso - which borders Niger to the south-west - has denied reports that it had offered to welcome Col Gaddafi.
Col Gaddafi's wife, two of his sons and his daughter fled to Algeria last week.
His own whereabouts remain the subject of speculation - though the NTC say they believe he is still in Libya.
Senior Western officials say they have no information about where Col Gaddafi may be, but have no indication he has left the country.
Stockpiles of weapons, including surface-to-air missiles, grenades and rockets have been found in unguarded warehouses around Tripoli.
Campaign group Human Rights Watch (HRW) says the weapons could fall into the wrong hands - either Gaddafi loyalists or Islamist militants.
"There are all these unguarded munitions facilities, and anyone can go in with a pickup or an 18-wheeler and take whatever they want," said Peter Bouckaert from HRW, who has recorded multiple weapons caches around the Libyan capital.
Mr Bouckaert said he found 100,000 anti-tank and anti-personnel mines at one unguarded site. Elsewhere, he found weapons caches hidden under fruit trees, the Associated Press reported.
The NTC has been trying to negotiate a peaceful resolution to stand-offs in a handful of Libyan towns or cities still controlled by Gaddafi loyalists.
These include Bani Walid, Jufra, Sabha and Col Gaddafi's birthplace of Sirte.
The NTC has positioned forces outside Bani Walid, and says talks will continue there until a deadline on Saturday.
But in his phone message, Col Gaddafi said he would still be able to defeat his opponents.
"The youths are now ready to escalate the resistance against the 'rats' [rebels] in Tripoli and to finish off the mercenaries," he said.