Libya conflict: Niger border 'cannot be closed'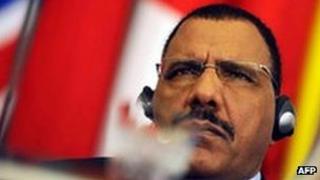 Niger's foreign minister says his country is unable to close its border with Libya to prevent fugitive Libyan leader Muammar Gaddafi fleeing south.
Foreign Minister Mohamed Bazoum told the BBC that Col Gaddafi had not crossed the border or asked to cross.
He said Gaddafi loyalists who have arrived in Niger's capital, Niamey, would be free to stay or move on.
Libya's transitional authorities have said they are seeking Niger's help to stop Col Gaddafi from fleeing.
Political Affairs head Fathi Baja said the National Transitional Council (NTC) had sent a delegation to Niger to discuss "securing our borders to stop any kind of infiltration of Gaddafi troops to Niger, to stop any attempt by Gaddafi or his family to escape to Niger".
Asked if Niger might close its border, Mr Bazoum said: "We have no means to close the border... It is too big and we have very, very small means for that."
He said he hoped that Col Gaddafi would not try to cross the border, but that Niger had not yet taken any decision on whether it would accept him - or whether it would hand him over to the International Criminal Court (ICC) - if he did attempt to enter Niger.
Niger recognises the ICC, which is seeking the arrest of Col Gaddafi, his son Saif al-Islam, and his former intelligence chief Abdullah Sanussi.
'Humanitarian' gesture
Mr Bazoum said at least three convoys had crossed from Libya into Niger, and that none of Col Gaddafi's sons was travelling in them.
Officials in Niger have said Col Gaddafi's security chief, Mansour Daw, was among those who entered the country in the convoys over the weekend or on Monday.
"We told them that we can accept them to stay for humanitarian reasons, but they have to respect what the international law allows them to do or [does] not allow them to do," said Mr Bazoum.
He added that those who had arrived from Libya - of whom there were fewer than 20 - were free to stay in Niamey, or to continue to Burkina Faso.
Burkina Faso - which borders Niger to the south-west - has denied reports that it had offered to welcome Col Gaddafi.
Mr Baji said the NTC would ask Niger to send any Gaddafi aides back to Libya. He also said people in the area had reported seeing gold and money in the convoys that drove to Niger.
"If that happened, we want that money back," AFP news agency quoted him as saying.
A US state department spokeswoman, Victoria Nuland, called on countries bordering Libya to the south to "make every effort to control their borders".
"We have strongly urged the Nigerien officials to detain those members of the regime who may be subject to prosecution, to ensure that they confiscate any weapons that are found, and to ensure that any state property of the government of Libya - money, jewels, etc - also be impounded so that it can be returned to the Libyan people," she said.
On Wednesday, a teenaged girl detained in Tripoli after accusations that she executed 11 people claimed that Mansour Daw had raped her.
She told the BBC she had been forced to shoot prisoners with a rifle.
Loyalist strongholds
Col Gaddafi's wife, two of his sons and his daughter fled to Algeria last week.
His own whereabouts remain the subject of speculation - though rebels say they believe he is still in Libya.
Senior Western officials say they have no information about where Col Gaddafi may be, but have no indication he has left the country.
A Nato spokesman, Col Roland Lavoie, told the BBC that Col Gaddafi was not a target, but Nato would continue to strike "command and control centres".
"If we have intelligence revealing that from a specific location attacks are being co-ordinated or communications are being received or sent to conduct attacks or the threat of attacks, we would take action," he said.
The NTC has been trying to negotiate a peaceful resolution to stand-offs in a handful of Libyan towns or cities still controlled by Gaddafi loyalists.
These include Bani Walid, Jufra, Sabha and Col Gaddafi's birthplace of Sirte.
The NTC has positioned forces outside Bani Walid, and says talks will continue there until a deadline on Saturday.