Libya conflict: anti-Gaddafi forces threaten Bani Walid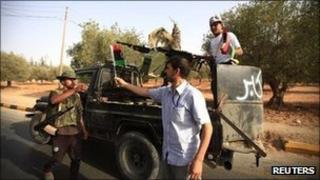 Hundreds of troops loyal to Libya's interim government are closing in on one of ousted leader Col Muammar Gaddafi's few remaining strongholds.
Fighters have moved on Bani Walid from three sides, warning Gaddafi loyalists to surrender or be attacked.
One key anti-Gaddafi fighter told the BBC he expected the standoff to be resolved on Monday morning.
There have been rumours two Gaddafi sons had travelled through the town and some family members may still be there.
On Saturday, the head of Libya's interim governing NTC said its soldiers were also laying siege to Col Gaddafi's birthplace in Sirte, as well as Jufra and Sabha.
National Transitional Council Chairman Mustafa Abdel Jalil said the pro-Gaddafi bastions were being given humanitarian aid, but had one week to surrender "to avoid further bloodshed".
Tripoli move delayed
Bani Walid is 150km (95 miles) south-east of Tripoli and one commander said anti-Gaddafi forces were closing in on the town from the north, east and west.
"We are now on the border of Bani Walid, between Tarhouna and Bani Walid," Moftah Mohammed said. "We are coordinating with the rebels from Misrata. God willing, we are hoping to enter the town today or tomorrow."
Anti-Gaddafi fighters told the BBC's Ian Pannell they were talking to former military officers still in Bani Walid who are seeking assurances that they would receive fair treatment and trial for alleged abuses during the uprising if they were to lay down their weapons.
In particular, they are concerned over reprisals for the killing of demonstrators in April or May.
Early reports suggested that Saif al-Islam and Mutassim Gaddafi had holed up in the desert town surrounded by armed supporters, and were ready to make a final stand there.
But the anti-Gaddafi fighters told our correspondent they had intelligence that Saif al-Islam had left Bani Walid on Saturday.
Analysts say it is important for the new national army to consolidate its control of all of the country to allow it to form a meaningful new government and to remove the threat from the old regime. Taking Bani Walid is key to that.
Col Gaddafi is reputed to have a lots of support there, though the town is mixed in its make-up. It is a stronghold for the Warfalla tribe. In a defiant audio message on 1 September, the fugitive leader referred to it as "an armed fortress".
The NTC may have made inroads in parts of Bani Walid - one rebel commander claimed recently that 80% of its residents had turned against Col Gaddafi - but the country's sprawling south could provide cover, as well as an escape route across the desert.
Col Gaddafi's whereabouts remain unconfirmed; his spokesman Moussa Ibrahim told Reuters in a telephone interview that the ousted leader was somewhere in Libya, safely surrounded by loyal supporters.
Meanwhile, the NTC is stepping up its efforts at reconstruction, setting up a supreme security council to protect Tripoli.
But it has said its leadership will not now move from Benghazi to Tripoli until next week, with Mr Jalil the last to go.
This could mean a delay in the opposition formally assuming the role of the new government and raise fears of a power vacuum in the capital, correspondents say.
Ian Martin, a special adviser to the UN secretary general, arrived in Libya's capital on Saturday to try to boost international efforts in the country's redevelopment.
In a sign of tension over the new government of Libya, a key Islamist military commander who helped defend Benghazi, has called on all of the NTC heads to resign.
Ismail al-Salabi told Reuters: "The role of the executive committee is no longer required because they are remnants of the old regime. They should all resign, starting from the head of the pyramid all the way down."
However, Russian Foreign Minister Sergei Lavrov said on Sunday that members of the former Gaddafi-led government should "unconditionally be a part of the process of national reconciliation".