Central Somalia clashes claim 30, many wounded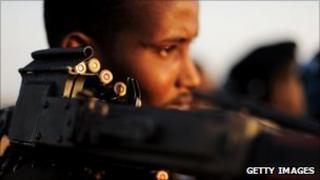 Heavy fighting in a town in central Somalia has left at least 30 people dead and 100 wounded.
A hospital in the town of Galkayou, supported by Medecins Sans Frontieres, has been coping with the casualties.
The town is divided between the regions of Puntland and Galmudug.
The conflict involves 2 clans, but Puntland said the fighting was taking place between its troops and a group with links to Islamic radicals of al-Shabab.
The clashes, involving heavy artillery, have been taking place in residential areas of Galkayou.
On Saturday there was a lull in the fighting, but the commander of Puntland paramilitary force, Colonel Mohamed Muse was killed in the town.
Famine spreads
"MSF is extremely concerned about the high number of civilian casualties that this round of fighting has caused," said Rolland Kaya.
Somali Prime Minister Abdiweli Mohammed Ali has appealed for a halt to the fighting, calling for a peaceful resolution of the conflict.
Meanwhile, the UN has warned that the situation in drought-stricken Somalia is deteriorating, and that almost all regions of the south could face famine.
It says rates of malnutrition and mortality are rising and diseases are continuing to spread.
The UN plans to hold a press conference on Monday to provide the latest details of the famine.
The United Nations refugee agency says it has reports that the Islamist fighters of al-Shabaab - who control much of southern Somalia - are still placing restrictions on the movement of people in their areas.
More than 12m people are affected by drought across the Horn of Africa.